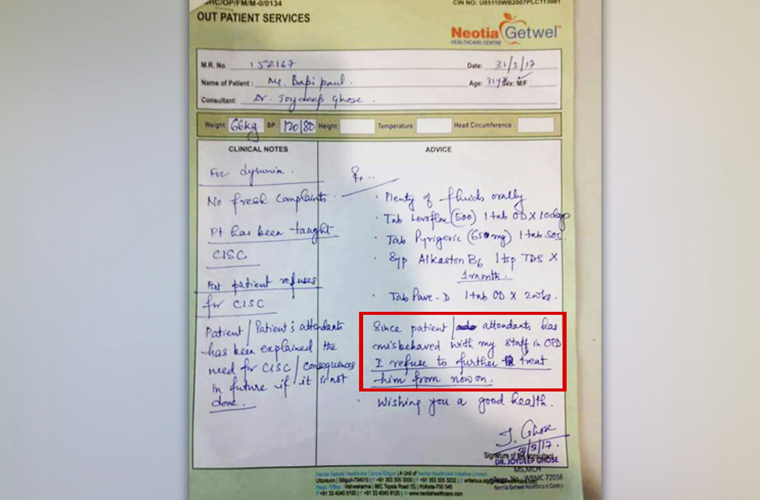 Targeting the medical fraternity in the name of medical negligence is in vogue now. Clinics and doctors get attacked and the blame game continues, when a serious patient succumbs in an hospital.
A doctor in Siliguri had made a note of the patient's misconduct and his refusal to cooperate on a treatment on the patients history sheet perhaps to stay clear of any legal liabilities that could arise because of his non cooperation. He had also made it amply clear that he would not treat the patient because he and his kingdom misbehaved.
Dr. Jaideep Ghose of Neotia Getwel Healthcare Centre had in his OP card clearly stated that treatment was refused to treat 31 – year old Bapi Pal, one of his patients, who came to his clinic with a serious bladder infection.
The said doctor cites in his clinical notes that the patient had refused to undergo Clean Intermittent Self Catheterization (CISC) to prevent bladder infections, even though the procedure was explained to him and the consequences there on were made clear in case of failing to undergo the procedure.
Covai Post took up the issue and spoke to the medical fraternity, in Coimbatore who came up with different answers and solutions for the souring doctor-patient relationship.
Dr. Elangovan Veerappan, Chief Nephrologist at K.G. Hospitals said we doctors are entitled to say 'no' to non- emergency cases. When it comes to emergencies such as heart attacks the doctor has to act fast and attend on the patient , extend first aid as per the medical code of conduct.
Attributing to this trust deficit to various causes including lack of insurance cover, bloated bills, Dr. Elangovan Veerappan said some doctors are irritable due to patient behavior. I would say that the doctor can choose his patient as much as the patient chooses his doctor.
Lack of State support in Medicare is cited as another reason. After all, the patient is forced to pay from his own pocket, and this makes him vulnerable and irritable.
Dr. Ravikumar National Coordinator for Private Medical Hospital Board of India, an associate body of Indian Medical Association (IMA) said according to the medical code a doctor can refuse to treat a patient unless it is an emergency.
Citing low insurance penetration, which is 20% in the country he said over 80% of the population is still uncovered. "While we Indians spent a lot for on other things like visiting a movie hall and going for a shopping , most of us do not invest on insurance. The centre is working on a frame work to give universal health care to all the citizens of India, which might be the solution.
Adding that some of the patients get irritated when doctors order a number of tests and investigations. Dr. Ravikumar said we at IMA recommend a step tby step approach, whereby tests are taken one after another based on need.
"The patients often browse the internet to enlighten themselves and have become more cautious these days. Moreover the patients expect quality health care in all hospitals and when it is missing they get irritable and non-cooperative. The doctor- patient relationship should always be healthy as it is vital to get quality health care, and the trust deficit would lead to such wrangles" Dr. Arul Prakash, Chief Psychiatrist, Kanyakumari Medical College Hospital said.
Subscribe To Our Newsletter