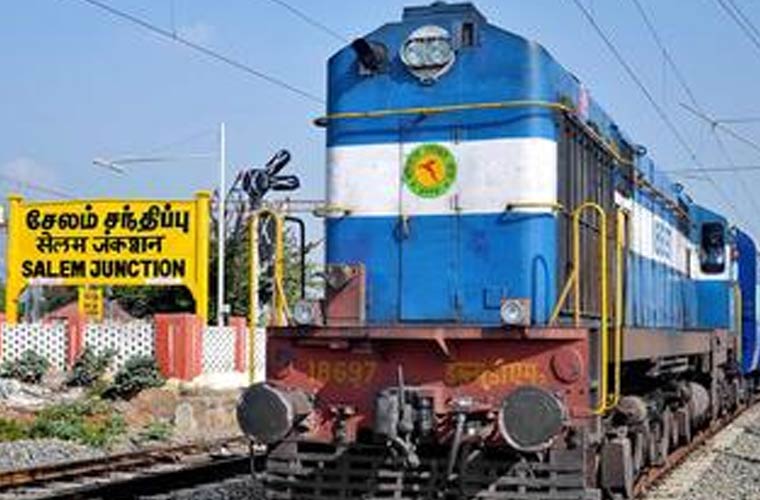 The Salem Division of Southern Railway has improved its performance during 2016-17, as the gross earning has gone by 4.9 per cent from Rs. 607 crore last year to Rs. 635.7 crore, a senior official has said.
The passenger earnings have seen a hike of 7.14 per cent to Rs. 511.23 crore compared to Rs.477.18 crores during 2015-16, Divisional Railway Manager Hari Shankar Verma said, while addressing the 62nd Railway Week Celebration last night in Salem.
The ticket checking earnings have seen a mammoth rise of 24.55 per cent from Rs.4.97 crore to Rs.6.18 crore, catering earnings increased by 12.72 per cent from Rs. 2.79 crore to Rs.3.14 crore, he said.
Various passenger facilities such as WiFi facilities at Coimbatore, Ooty and Coonoor, AC Waiting Halls at Salem, Tirupur and Coimbatore, escalators at Salem, all women facilitation centre at Coimbatore, baby food stalls called Janani Sewa Stalls at Coimbatore, Erode, Salem, Karur, Mettupalayam, Coonoor and Ooty, feeding corners at Coimbatore, Tirupur, Erode and Salem have been put in place during the period, he said.
In addition, he said that point of sale (credit/debit card swipe) machines have been introduced in all major and minor stations to enable purchase of tickets in the advance booking counters without cash, a release from the division said today.
'We Care' booth was introduced as a single point assistance centre at Salem and train captains have been appointed in trains such as Blue Mountain Express to assist the passengers.
WiFi facility would be extended to Salem Junction before end of this financial year and as part of Green Initiatives, Salem Division, has developed a Solar Powered Coach for the Coimbatore-Mayavaram Jan Shatabdi Express which is now on trials, Verma said.
Subscribe To Our Newsletter