Images of hunting of small water birds going viral on social media helped forest department personnel arrest one Kathiravan from Vadalur of Cuddalore district on Wednesday.
According to sources, Kathiravan and along with his friend was catching the small water birds like little egret, Indian pond heron and other birds in their area for meat and they posted the photos of the hunted birds in their Facebook page which went viral in social networking sites.
After seeing the pictures, several NGOs and nature enthusiasts voiced their concern and complained to the forest department.
Based on the information, Cuddalore forest personnel nabbed Kathiravan in 24 hours. A senior official said hunting of wild animals was a punishable offence. Water birds like egrets and herons were protected under the Schedule 4 of the Wildlife Protection Act, 1972.
C Badrasamy, former District Forest Officer and Honorary Wildlife Warden for Coimbatore, said that expect pet animals, fruit-eating bats and crows, all other animals were considered wild ones. And killing or hunting of them was punishable under Wildlife Act.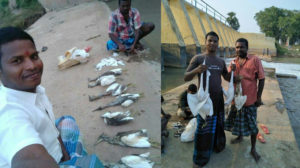 He said that for ecosystem balance, protection of every animal was important. Many people and even some forest personnel were not aware of the importance of these animals in the ecosystem and treated them and as lesser known animals.
Many small animal species like snakes and francolins were being hunted for the meat. As a result many snakes and wild cats had turned endangered. This can be stopped by creating better awareness. NGOs and wildlife enthusiasts could also be involved in awareness programmes.
The punishment for killing spotted deer in India was same for killing of chameleons and many were not aware of this, added Badrasamy.
Last month there was a case of hunting of Indian palm squirrel at Singanallur Lake and painted stork last year for meat.
Subscribe To Our Newsletter