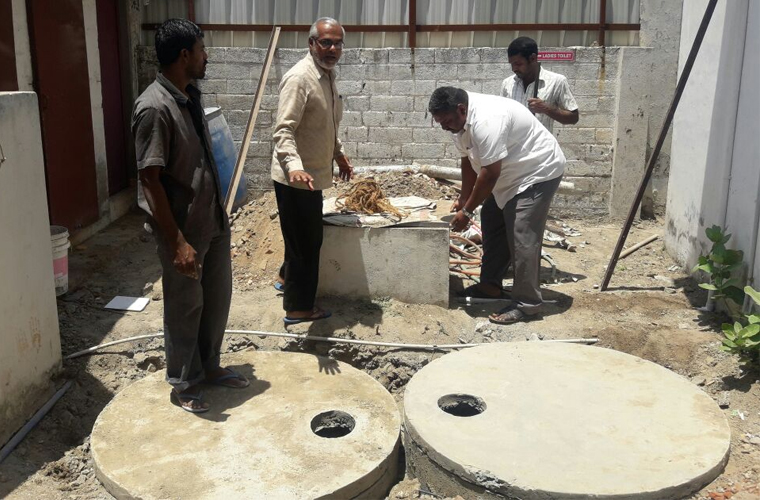 It was 10,000 litres of water used water for wudu (ritual purification before a formal prayer in every mosque) going down the drain till recently at the new Iahshan mosque in Solamathi Nagar. Out to check this wastage and conserve it, functionaries of Jamat-e-Islami Hind came up with the harvesting system within the mosque complex. And this has come to be acknowledged as a big step in recharging the groundwater table.
Two pits of 5X12 feet were dug spending just Rs 10,000. These were filled with blue metal and bricks into which the wudu water flowed. On the lines of rainwater harvesting, these pits should help recharge groundwater in the area, secretary M Abdul Hakkim told Covaipost.
M. Abdul Hakkim, Secretary to Covaipost.
About 1,000 people congregate in this mosque for salah or salat and they are religiously bound to do wudu (partial ablution where arms, legs and mouth are cleaned before entering the mosque for prayers),daily. The waste water thus harvested would help recharge the ground water, which has touched abymal depth of 350 feet in recent years due to various reasons including lack of water harvesting measures.
Abdul Hakkim who is the brain behind the initiative says that in the next phase, his organisation has planned to extend this harvesting to five other mosques in the city, including Masjid ul Huda in Karumbukadai, Athar Jamad in Oppanakkara Street and one in RS Puram.
"Gradually this will be extended to all the 100 mosques in the city, one after another," said Hakkim.
"While the city is reeling under severe drought, we are forced to buy water in tankers for mosques. Water harvesting is a worthy cause, which should help us conserve this precious resource," he adds.
Environmentalists have given this effort a big thumbs-up. Siruthuli founder Vanitha Mohan in a message said: "Very good Hakkim bhai – every drop saved will save the Mother Earth for us." Gurdip Singh Anand of New Era Group of Companies had this to say: "Great initiative Hakkim bhai , this is the need of the hour."
Jamat-e-Islami Hind, as a social service organisation was involved in relief measures during last year's flash floods and helps the needy through regular visits to orphanages and hospitals in the city.
Subscribe To Our Newsletter