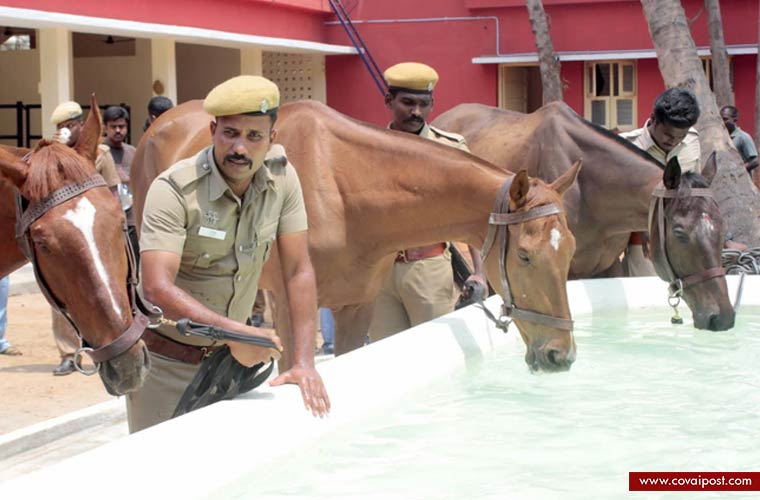 The mounted horse branch of Coimbatore city police gets five horses today. They will be put into service for patrolling and crowd control.
The five horses are Regimental Hero (4 years), Power of Liberty (5), Dancing Duke (6), Scent of Power (6) and Aviator (9). The horses were donated by Race Club Chennai and have completed a one-month training in Chennai Mounted Horse branch. Police personnel to ride the horses also underwent a training.
The Coimbatore district police was first permitted to raise a mounted branch in 1982 but was delayed for some reasons till the inception of the commissionerate in the city. The then Inspector-General W.I. Devaram commissioned the branch on March 29,1991 with 10 horses.
Owing to non-availability of horses, the branch here was closed in 2006. And a decade now, the branch has been revived and will be function from the Police Recruitment School.
The building was recently renovated and has 10 stables. "These horses are used for patrolling the city. We planned to get 10 horses for the mounted branch. It has received five horses in the first phase another five will be brought soon," said city police commissioner A Amalraj.
Sub-inspector A.Subramaniyam, is incharge for the horse team and will have 10 personnel for the riding. "Every horse in this branch get Rs 550 allowance per day and 24 types of nutrition items like oats, fish oil, carrot etc. are being given," said Subramaniyam.
The horses have daily parade training and regular checkup by the government veterinary doctor.
Subscribe To Our Newsletter