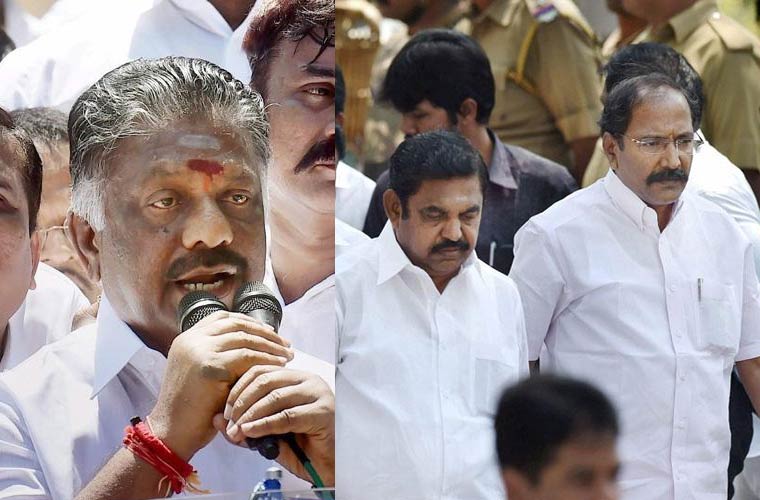 Chennai: The O Panneerselvam camp is stiffening its stance even as the E Palaniswami camp is eager for merger talks. This is clear from the tone and tenor of the OPS camp that refused to begin merger talks until and unless Sasikala and Dinakaran were formally ousted from the party and an inquiry is ordered into the death of former Chief Minister J Jayalalithaa.
Complaints that the OPS camp is deliberately shifting the goal post came from EPS camp leaders, who were desperately seeking out leaders from the OPS camp. Said senior MP from AIADMK (Amma) Vaidyalingam that if the High Court orders a probe the government will immediately comply and on Sasikala, the case is with election commission.
The demands of OPS camp are not justified at this stage and ahead of merger talks, he said adding that "also it was not within the purview of the government when constitutional bodies were seized of the matter."
On Monday, the merger talks were to begin but got postponed after two senior leaders of OPS camp came out strongly reiterating the party stand of a probe into Jayalalithaa's death and immediate and formal removal of Sasikala and Dinakaran.
Commenting on this, the EPS group said the OPS group was wanting to put a full stop to the merger talks. It seems as if they don't want the merger talks to continue. The OPS group that was ready to talk merger has begun putting conditions to stall the progress.
"We are appealing to the OPS group, through you, to come for merger talks," said Vaidyalingam.
Addressing mediapersons after a series of meetings on Monday, senior Panneerselvam faction leader and Rajya Sabha member V Maitreyan said Sasikala and Dinakaran should be expelled from the party, which should be freed from the clutches of the "Mannargudi mafia".
He also charged that the EPS group seemed to be functioning as if by a remote control, or some outside forces.
With the two sides sticking firm to their respective stands, it is doubtful if the two sides would sit down for formal talks, at least late this evening as was earlier scheduled. There was no official confirmation of talks happening at the time of writing this report.
Subscribe To Our Newsletter