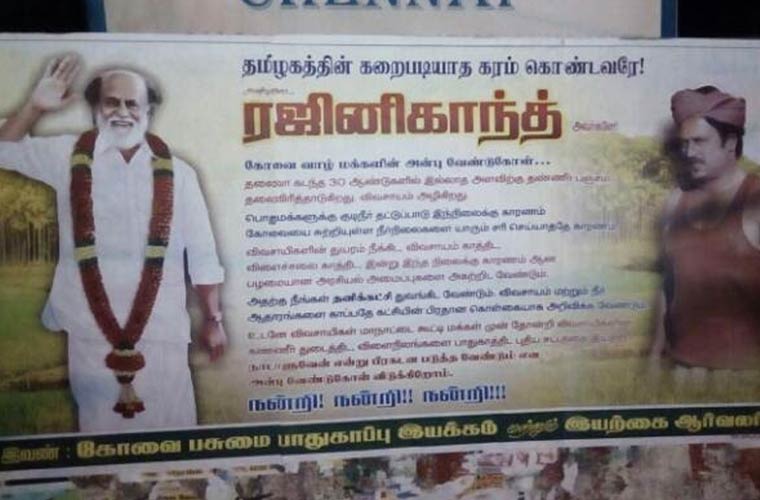 Posters urging Tamil actor Rajinikanth to take a plunge into politics have appeared in Coimbatore.
The superstar had earlier planned to meet his fans on April 12 after a very long time and it was widely rumoured that he would announce his entry into politics. However, he cancelled the meeting citing busy schedule and the issue was put to rest for sometime.
Leaders of various political parties, mostly from the BJP, have been meeting the actor and appealing him to join politics.
This time, his fans, through the posters seen throughout the district, have raised issues affecting common man and appealed to him to take the plunge.
"The State is suffering from severe drought that has not occurred in the last 30 years. Farmers are largely hit due to poor management of water bodies by authorities," the poster, supposedly printed by Coimbatore Green Conservation Movement and other Nature Enthusiasts, said.
Calling Rajini as a person with clean hands, it also appealed to him to meet the farmers and hold a 'grand conference' with them and announce his entry into politics.
"Your party will solve the problem faced by farmers and its important policy should be farmers' welfare," the poster said.
When Covai Post tried to contact the members of the organisation that has printed the poster, they were not available.
Subscribe To Our Newsletter