Coimbatore :Pricol Limited. (BSE: 540293 & NSE: PRICOLLTD), one of India's leading auto component manufacturers, announces its results for the third quarter of financial year 2022-23.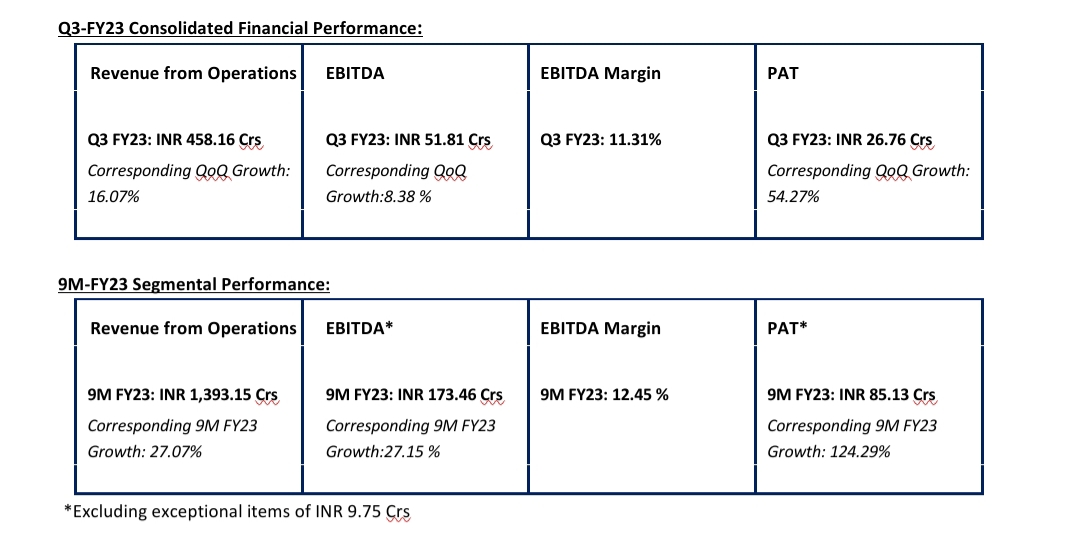 Q3-FY23 Business Highlights:
• Pricol exhibited in Auto Expo 2023 with futuristic and EV ready products like Heads Up Display (HUD), E-cockpit, Disc Brake, Round TFT Instrument Cluster, TFT Smart Clusters, Electric Coolant Pump, Electric Cabin Tilt System, end-to-end Telematics Solution and Battery Management System (BMS) and its existing range of products.
• Pricol has been awarded as one of the TOP 50 Innovative Companies by CII – Industrial Innovation Award 2022.
Management Comments:
With the rising focus on EV penetration, we have a leading advantage as a company given the robust product portfolio that are EV agnostic. We have launched a whole host of next-gen technology products/solutions that can be deployed across all vehicle segments. Being in the technology and solutions space, we have focused on building the talent and resources to scale up in-line with the expected growth of industry especially in the EV space.
In Q3 FY 23, we had a significant impact on our topline because of acute IC shortage due to internal consolidation activity of one of our key IC suppliers, due to which we were unable to fulfil the customer demands. This in turn affected our bottom-line because of loss in sales and other costs such as premium freights. With our collective efforts, we overcame these challenges and reported a healthy set of numbers in Q3 and we believe the worst is behind us in supply chain constraints and we will continue to deliver a consistent performance in the upcoming quarters with healthy orderbook.
Financial Statements:
Results for the quarter ended December 31, 2022, prepared under Ind AS, along with segment results, are available in the Investor Relations section of our website https://www.pricol.com/.
Quarterly Conference Call:
The earnings conference call will be held on Thursday, February 09, 2023 at 12:00 PM (IST) to discuss the Financial Results and performance of the company for the quarter ended December 31, 2022.
The earnings conference call will be accessible from all networks and countries through universal access dial-ins:
+91 22 6280 1341 or +91 22 7115 8242 also accessible at:
https://services.choruscall.in/DiamondPassRegistration/register?confirmationNumber=8394074&linkSecurityString=2933de55a4
Further, the analyst(s)/institutional investor(s) presentation will be submitted to Stock Exchanges and shall also be hosted on the company's website at https://www.pricol.com/
Subscribe To Our Newsletter