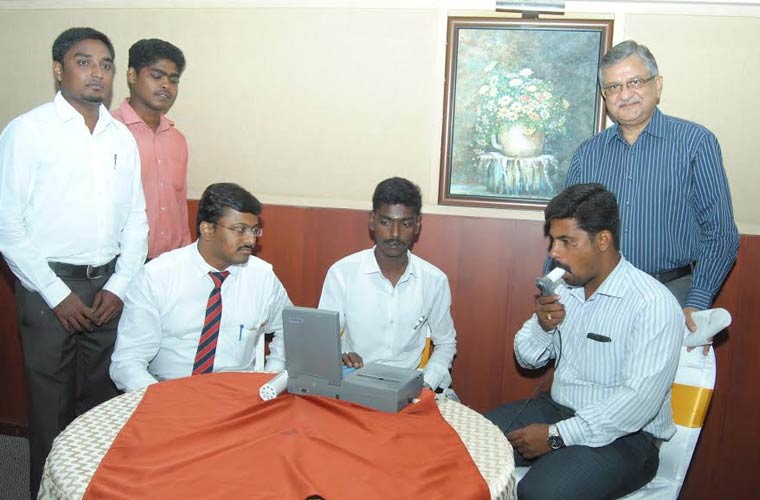 The Coimbatore Respiratory Society would soon launch an awareness campaign on respiratory diseases and how to handle such cases. To begin with it would start with the city schools.
Giving details to media persons here today, Dr. Mohankumar Thekkinkattil, Senior Consultant in Pulmonary and Sleep Medicine said awareness should begin at the early level. "When a student gets a wheezing attack at school, the teachers are not able to help him properly. Awareness should start from the school level. We are conducting an awareness programme at a private school on World Asthma Day (May 2)," he said. Such programmes would be conducted throughout the city, he added.
Dr. Mohankumar said it was essential to get the statistics of the disease in Coimbatore so as to formulate an approach in its treatment and in creating awareness.
Dr. S. Santha Kumar, Consultant Pulmonologist at KMCH said that despite the increase in number of people affected by respiratory disorders, the awareness level was very low. "People do not care about their lungs. The lack of awareness is also a reason for the rise in the disease," the doctor said.
"Close to 1.5 crore people in India are suffering from the disease, which is one to two per cent of the total population. In the case of children, close to five per cent have respiratory problem. The numbers might be even more in the current scenario," said the pulmonologist.
Claiming that various factors including unhealthy food habits and alarming pollution level were also the reasons that caused asthma, Dr. Mohankumar also said it can be controlled by using inhalers and nebulisers.
Subscribe To Our Newsletter