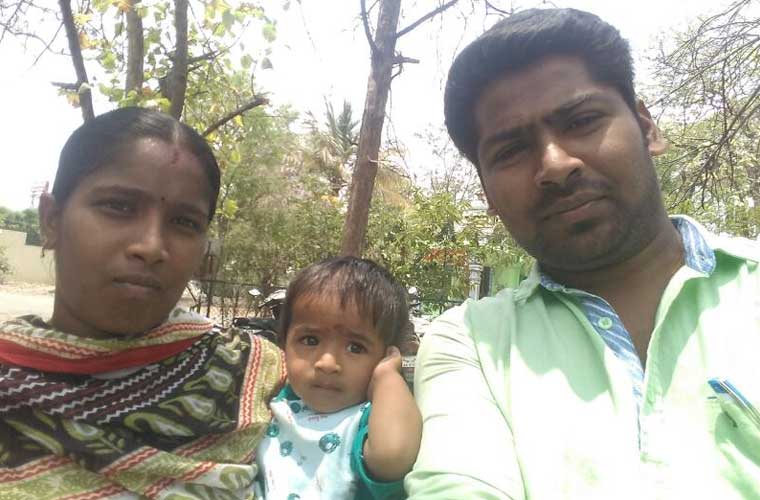 A rural couple with limited livelihood means made their son's birthday on March 31 a momentous occasion, taking a pledge to donate their cadaver.
A Ramesh Kumar (30) of Arasur near Sulur and his wife A. Vijayalakshmi (22) visited Coimbatore Medical College and Hospital, met Dean Dr Edwin Joe and presented the pledge of donating organs too. It was signed by a notary.
Ramesh told Covai Post: "The awareness levels about cadaver donation are abysmally low, especially among rural youth. So, I thought of setting an example through cadaver donation and I appealed to my wife to do so. And this she happily did."
Ramesh, who has completed his school final, runs a power loom business in his village. Coordinator of `Uzhavar Pasumai Puratchi', a movement he founded, Ramesh has been actively involved in greening his village. "My friends and I have so far planted about 4,000 saplings in our village. Temple lands, crematorium and poromboke lands too are under this green initiative. We succeeded in transforming a 9-acre plot into green paradise," he said.
Ramesh has been active in organising regular blood donation camps and awareness programmes.
"I came to know about cadaver donation through doctors during blood donation camps in the village. We are still tradition-bound and reticent about making the pledge. I thought let me take the first and right step and be an example for others. This is one meaningful gesture for our fellow beings, some of them are languishing due to organ failures and they are waiting for a life- saving organ transplant. The youth should come forward to pledge their organs. I hope my example will influence other youth," he adds.
Subscribe To Our Newsletter