Coimbatore – Scoot, the low-cost subsidiary of Singapore Airlines (SIA), has launched a network sale from 16 to 20 May 2023. Customers in Amritsar, Coimbatore, Thiruvananthapuram, Tiruchirappalli and Vishakhapatnam can look forward to planning their trips in advance to 17 destinations in Southeast Asia and East Asia, with airfares starting as low as Rs.6,200*.
For travels until 31 August 2023, customers can choose from various destinations across Scoot's networks including Indonesia, Japan, Laos, Malaysia, Philippines, Singapore, South Korea and Vietnam. Apart from direct flights from India, customers can also choose to connect to other destinations across the world through Singapore, where they have the option to layover at the world's best airport, Singapore Changi Airport.
Offering unique cabin classes and inflight experiences at great value, Scoot customers can continue to look forward to tailoring their flight experience to their individual preferences. For example, customers can opt for an upsized experience on ScootPlus, for more comfort, 30kg check-in baggage allowance, up to 15kg of cabin baggage allowance, a choice of meal and beverage, Wi Fi access and more.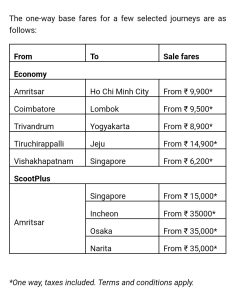 Subscribe To Our Newsletter