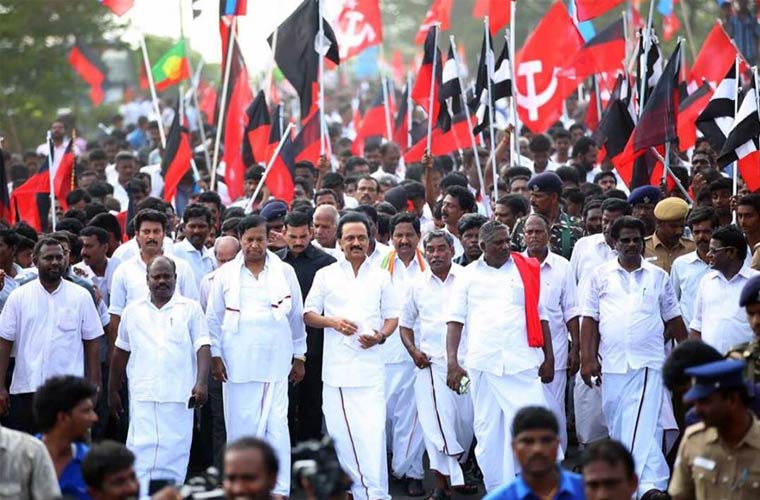 When the entire State came to a standstill, with most of the business establishments and shops downing shutters supporting the DMK's call for a bandh supporting the farmers' cause, the DMK has certainly achieved what it wanted.
The party's Working President, M.K. Stalin, invited all major political parties, traders union and farmers association to support the bandh.
Ever since becoming the Leader of Opposition in the State Assembly, Stalin has been attacking the Government on its policies and its handling of various issues. The attacks have become even sharper in the recent past. From creating a ruckus in the House during the vote of confidence and coming out of the Assembly with torn shirt, Stalin tried everything, but in vain.
State wide protests and bandhs for various reasons did not evoke much response from all quarters in the State.
It was at this juncture that Stalin called for an all-party meet to discuss the farmers' issue, which was attended by Thol Thirumavalavan, Left leaders G. Ramakrishnan and R. Mutharasan and State Congress leaders.
Other parties such as DMDK, MDMK, PMK, AIADMK and BJP criticised the party for trying to gain political mileage from the farmers' protest at New Delhi.
However, Stalin was successful in winning the support of three of the five PWF leaders, who were opposed to both the Dravidian parties during the 2016 elections. The meeting decided to go ahead with the bandh against the Central and the State Governments for not heeding to the pleas of the farmers. The leaders readily agreed to support him and so were traders and farmers' leader Aiyakannu, who participated in the protest in Chennai today.
The State witnessed protests and road blocks in most of the areas and majority of shops and business establishments downed their shutters. With this, Stalin and the DMK stand on a strong wicket.
Closed shops and empty roads were examples.
Subscribe To Our Newsletter