Udhagamandalam : Tourists to the Nilgiris enjoy fresh mountain air and leave behind toxic fumes.This and many other interesting views surfaced at an inter-school debate on "Tourism in the Nilgiris-Boon or Bane" organised by the 159 year old Nilgiri Library in Ooty on Saturday.
With over 30 students from 17 schools matching wits, tourism long considered to be synonymous with the Blue Mountains,was put through a scanner for nearly three hours.
Coming down hard on tourism,students who considered it a bane averred that it aggravated all forms of pollution. Pointing out that tourists flock to the Nilgiris in thousands, they lamented that the carrying capacity of the hills was never being taken into consideration.
Regretting that practically all the resources were being used for the tourists,they feared that there will be nothing left for the locals.Though the Nilgiris was an 'anti-plastic' district many of the tourists were behaving as though they were unaware of it.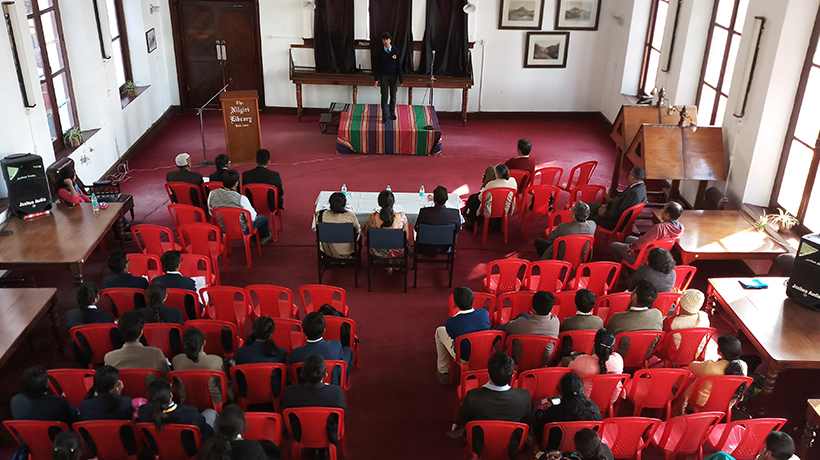 Claiming that blind promotion of tourism affected the ecology of the district,they said that there was a great deal of interference with nature.The growing demand for providing amenities like cottages for tourists was
tempting the local people particularly the indigenous Badagas to sell their farm lands.In the name of tourism social evils like prostitution and drug abuse were rising.While promoting tourism tradition and heritage were being compromised.
Listing the benefits of tourism participants pointed out that it was the largest industry in the World and the contribution of the Nilgiris was significant.
Stating that it played a major role in ensuring the economic well being of the district,they pointed out that over thirty two lakh tourists visited the Nilgiris annually.They helped promote and conserve flora and fauna.Tourism was a bread and butter issue in the Nilgiris.Stating that scenic spots like the Government Botanical Garden and the Government Rose Garden generated considerable revenue, they said that the government should be asked where it was going.
Pointing out that the Nilgiris has a lot to offer to the tourists who come from polluted cities,they said that only through tourism people come to know about the place.It was a popular stress buster.Referring to the plastic menace they contended that the litter problem was increasing because bottled water being sold here.The district Collector Ms.Innocent Divya was taking adequate steps to enforce the ban on disposable plastic items.In the long run it will have a salutary effect.If tourism is discouraged unemployment will become a major problem.
The debate was facilitated by the library president Ms.Geetha Srinivasan,the Secretary Ramakrishnan Nambiar and the State Bank of India.
Subscribe To Our Newsletter