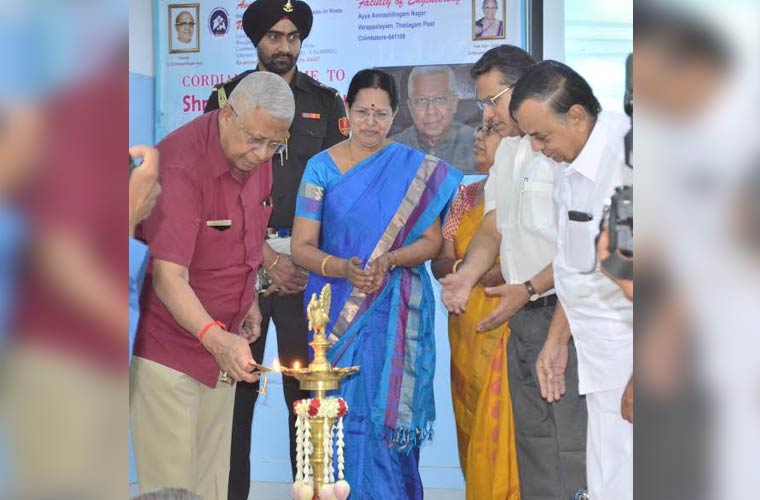 The vital role of women was to educate the society as they emerged as exemplary leaders at the policy level as well as at community level, Tripura Governor Tathagata Roy said today.
Speaking after inaugurating a workshop on the 'Role and Contribution of women in Indian Polity', organised at Avinashilingam University for Women here, Roy said women were endowed with certain special characteristics namely the capacity for love, compassion, perseverance and self-sacrifice which alone can eliminate the violence and injustice in today's world. "So the vital role of women is to educate the society," he said.
Stating that efforts during post-independence era got a shot in the arm when Indira Gandhi became the first lady Prime Minister of India, Roy said that women got empowered and moved to participate further in all spheres of services – financial, administrative, judicial, education, research and other fields as well.
Presence of women in various decision making bodies helped to develop confidence among other women, opening up possibilities for future, he said.
"Women are the driving force of the socio-economic development of the country after the independence. Vast networks of women groups such as NGOs, non-co-operatives at the grass root level have played a pivotal role in providing empowerment initiatives which resulted in socio-economic and income generative activities. This paved way for sustainable development and economic growth of the country," Roy said.
"Each young Sarada of this University should contribute for the peace and harmony in the troubled world. She will be a dove of peace and will release their potentialities to the full for the future of humanity," he said.
The University Adviser, S.C. Sharma, said that the women in India play an important role in the country's governance and their decision-making is essential for women's interests to be incorporated into governance.
The role and contribution is omnipresence and all-pervasive in every sphere of live as India seeks to march steadily towards the path of growth, he said.
The workshop was to capture the specific issues and challenges with regard to women's political empowerment that our country experiences and such programmes are established to accelerate progress on meeting Women's rights, Vice-Chancellor, Premavathy Vijayan said.
Subscribe To Our Newsletter