High drama played out in RK Nagar, where by-elections are slated for December 21, on Tuesday, courtesy actor Vishal whose nomination papers were rejected, accepted and then rejected.
The drama went all through the night and the election office was action-packed. Initially, election officials turned down the Kollywood hero's papers on the grounds that the signatures of 2 out of his 10 proposers were forged.
On knowing that his papers were rejected, Vishal, who aspired to contest as an independent candidate in the seat that fell vacant following the death of Chief Minister Jayalalithaa on December 5 last year, literally sweated it out on the streets with a road roko and tried to make the election officials see reason and accept his nomination papers.
He made them hear a recorded audio clip wherein he calls one Velu and asks him whether he has given a letter that the signature was not his. In the conversation between him and Velu, the latter alleges that AIADMK candidate E.Madhusudanan's men forced him to sign a letter stating that the signature against the proposer's name was forged. He also alleges that the women in his family were whisked away by those men to be produced before the RO. Another allegation Velu made in the audio was he was given cash for ''yielding', but he did not accept it.
Now, Returning Officer (RO) Velusamy looked convinced and Vishal told the waiting mediapersons that his nominations have been accepted after he submitted an audio proof.
In a couple of hours, things turned against him again. Velusamy announced that Vishal's papers stand rejected. He issued a statement which said Vishal's nomination was taken up for scrutiny when objections were raised as to the genuinity of some of his proposers. He said Vishal played an audio clip wherein a person claiming to be speaking on behalf of the proposer said that Sumathy had appeared in person before the RO only on coercion and not on her own volition.
"Upon the summary hearing, it is clear that 2 proposers Sumathy and Deepan have appeared in person and staked claim that it was not their valid signatures and the representative of the nominee Vishal brought only an audio clip and the veracity of the person speaking therein cannot be ascertained,"he said, concluding that Vishal's papers have been rejected as he has not fulfilled the conditions for valid nomination.
Now, a visibly disappointed Vishal swore before the media that he would support a youth contesting as an independent in the bypoll and make him win.
The actor-producer, who enthusiastically tweeted that truth triumphed, deleted it and put out two new tweets past midnight saying, "5th Dec 2016, #Amma died. 5th Dec 2017, Democracy died," and "Democracy at its lowest low," with hashtags #RIPDemocracy and #PoliticalGame.
In the latest tweet, he said he looked up to Prime Minister Narendra Modi and Rashtrapathi Bhavan for all that has happened in RK Nagar election process and hoped justice prevailed.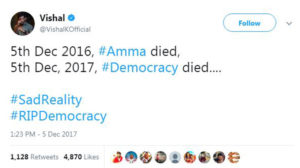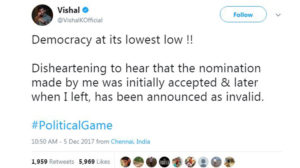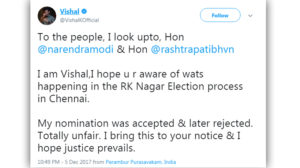 Subscribe To Our Newsletter