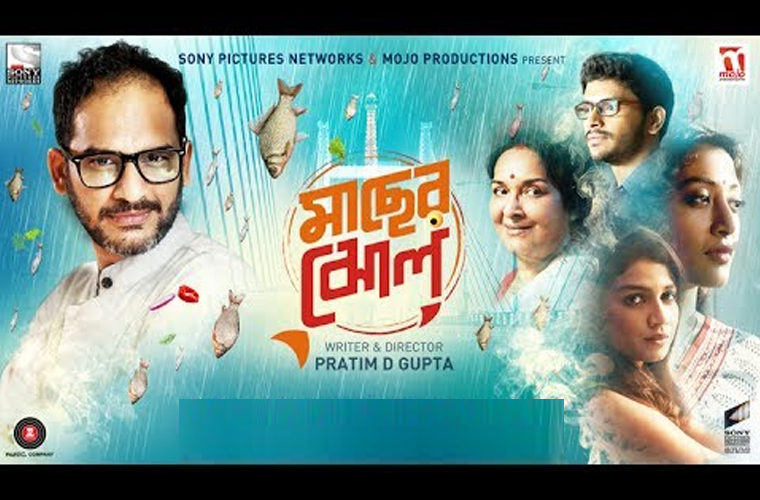 On popular demand the Bengali film releases in cities across India
The much-awaited Bengali film, Maacher Jhol is now releasing in key metros like Mumbai, Pune, Delhi NCR, Bangalore and Ahmedabad on 1st September 2017. Sony Pictures Networks India (SPN) and Mojo Productions' latest offering, written and directed by award-winning filmmaker Pratim D. Gupta, is a heart-warming journey of an internationally renowned Masterchef struggling to cook the quintessential Bengali dish, Maacher Jhol (fish curry).
The film which released in Kolkata on 18th August regaled audiences with full house shows for two consecutive weeks. The film which has been shot in the locales of Kolkata and Paris has beautiful music renditions composed by Anupam Roy of Piku fame. The award-winning actor Ritwick Chakraborty plays Masterchef Dev D while the legendary Mamata Shankar plays his mother, and Paoli Dam his wife Sreela.
Maacher Jhol is all about Chef Dev D's race against time, fused with the zing and spice of his relationships with various people. Will Chef Dev D be able to keep up with the pace of the rollercoaster journey that life has hurled at him? Watch Maacher Jhol at a theatre near you where this main course shall be served from 1st September 2017.
About Sony Pictures Networks India (SPN)
Sony Pictures Networks India (SPN), is a subsidiary of Sony Corporation which owns and operates the Sony Entertainment network of television channels.
SPN comprises 31 channels including Sony Entertainment Television (SET and SET HD), one of India's leading Hindi general entertainment television channels; MAX, India's premium Hindi movies and special events channel; MAX 2, another Hindi movie channel showcasing great India Cinema; MAX HD, a high definition Hindi movie channel airing premium quality films; WAH, the FTA channel for Hindi movies; SAB and SAB HD the family-oriented Hindi comedy entertainment channels; PAL, a genre leader in rural Hindi speaking markets (HSM) showcasing the best of Hindi general entertainment and Hindi movies from SPN"s content library; PIX and PIX HD, the English movie channels; LePlex HD showing critically-acclaimed Hollywood films; AXN and AXN HD, the action and adventure-oriented English entertainment channels; Sony BBC Earth and Sony BBC Earth HD, the premium factual entertainment channels, Sony AATH, the Bangla entertainment channel; MIX a refreshing Hindi music channel; ROX HD, a channel for contemporary Hindi music; YAY!, the kids entertainment channel; Sports Network comprising 11 sports entertainment channels – SONY SIX, SONY SIX HD, SONY ESPN, SONY ESPN HD, SONY TEN 1, SONY TEN 1 HD, SONY TEN 2, SONY TEN 2 HD, SONY TEN 3, SONY TEN 3 HD, SONY TEN GOLF HD; SonyLIV – the digital entertainment VOD platform, SPN Productions, the networks" film production arm and Sony Pictures Networks Distribution Pvt Ltd. (SPND) that distributes the networks television channels across different genres and languages through multiple content delivery platforms. SPN reaches out to over 700 million viewers in India and is available in 167 countries.
The network has been awarded the elite title of 'Aon Best Employers India' in the 2017 edition in recognition of SPN's unique workplace culture and exceptional people practices.
Sony Pictures Networks India is in its 22nd year of operations in India.
About Mojo Productions Pvt Ltd
Mojo Productions is a production company based in Kolkata and Mumbai, committed to producing films crafted by a new generation of directors, writers and technicians working in India. Their earlier projects include "The Bong Connection" (English/Bengali 2007), "Via Darjeeling" (Hindi-2008), "Brakefail" (Bengali – 2009), "033" (Bengali) & "Shukno Lonka" (Bengali – 2010) , "Bhooter Bhobishyot" (Bengali – 2012), "Maach, Mishti n More" (English/Bengali – 2013), "Colkatay Columbus" (Bengali 2016), "The Bongs Again" (English/Bengali Jan 2017) the yet released "BBD – Kolkata Junction" (Hindi).
About Pratim D. Gupta
Pratim D. Gupta is a well-known film critic and film maker in India. Maacher Jhol will be his 4th feature film. Paanch Adhyay 2012 (5 chapters), X (Hindi – feature film made up of 10 shorts), Saheb Bibi Golam (SBG) 2016. His films have not only gained international acclaim but have also been successful in the box office. SBG was the first Bengali film to be acquired by Netflix.
About Maacher Jhol
Maacher Jhol is a heart-warming tale of a world renowned Masterchef returning to his roots through a bowl of fish curry, the quintessential Bengali delicacy. Ritwick Chakraborty plays Dev D, the Paris-based Chef, who comes to Kolkata after 13 years to his ailing mother, played by the thespian Mamata Shankar. Coming to terms with his past – Paoli Dam plays the haunting Sreela – Dev is faced with a cooking challenge that will change his life forever. Produced by Sony Pictures Networks and Mojo Productions, Maacher Jhol is written and directed by Pratim D. Gupta with music and lyrics by Anupam Roy.
Subscribe To Our Newsletter