Meta title: The PNB Housing Finance FD offers an attractive FD interest rate of 7.55% to investors, which goes up to 7.80% for senior citizens, along with other benefits.
Choosing a safe and secure investment instrument like a fixed deposit is key to growing your savings. It is also a great way to mitigate the risk of your portfolio as the FD interest rate is fixed until your FD matures, and is not linked to the market.
While many companies offer attractive FD interest rates, one name you can bank on is PNB Housing Finance. Apart from being a renowned name in the housing finance sector, with 150,000+ deposit accounts, it is the second largest in terms of the size of fixed deposits it holds.
With an appealing FD interest rate across multiple tenors and payout options, the PNB Housing Finance FD is a strategic investment that helps you maximise your earnings. Read on to learn more about the PNB Housing Finance FD and its umpteen benefits.
How is the PNB Housing Finance FD beneficial for investors?
With competitive FD interest rates, this FD helps you in growing your corpus in a secure way. Keep in mind that there are several factors like the deposit type, payout mode and tenor, which govern the interest rate of this FD.
With a PNB Housing Finance FD, you get some of the best interest rates starting from 6.63% p.a. up to 7.55% p.a. across non-cumulative and cumulative deposits. Here is a table with the FD interest rate for various tenors and payouts.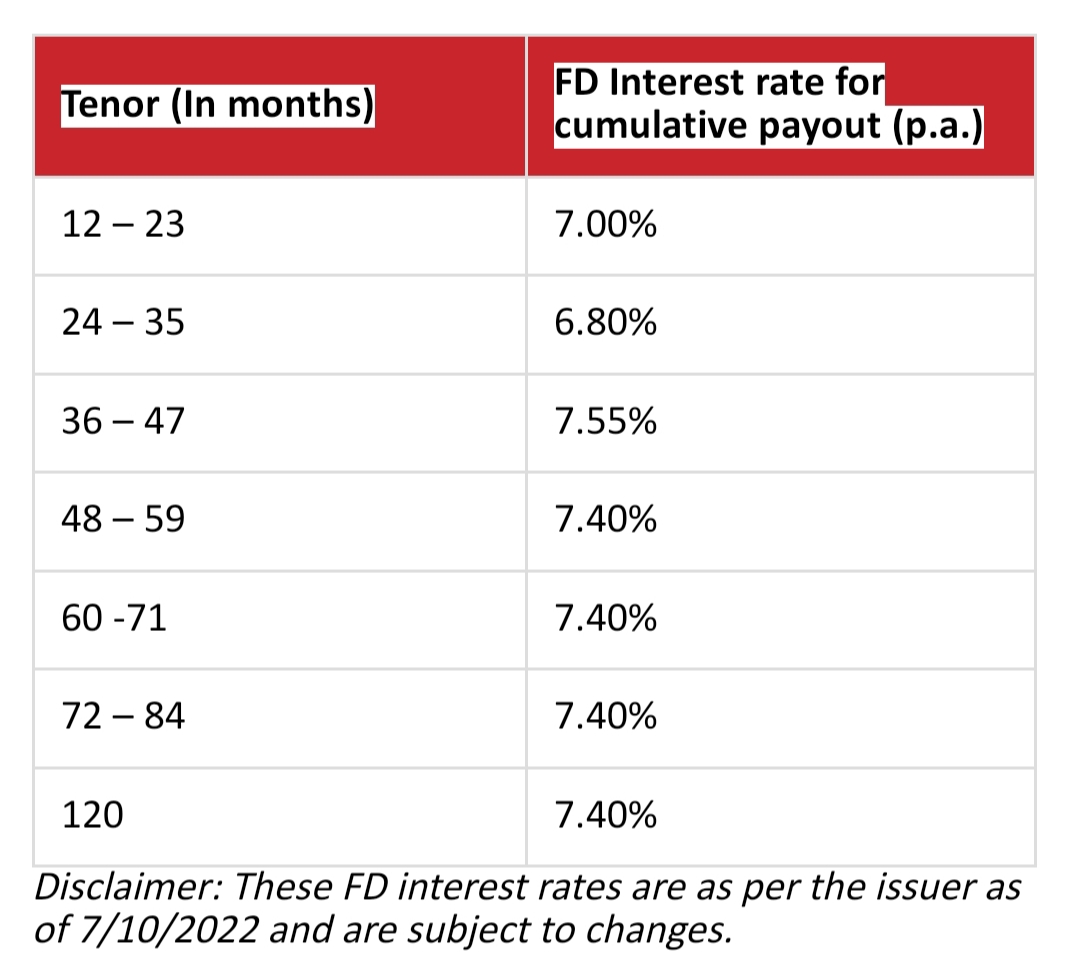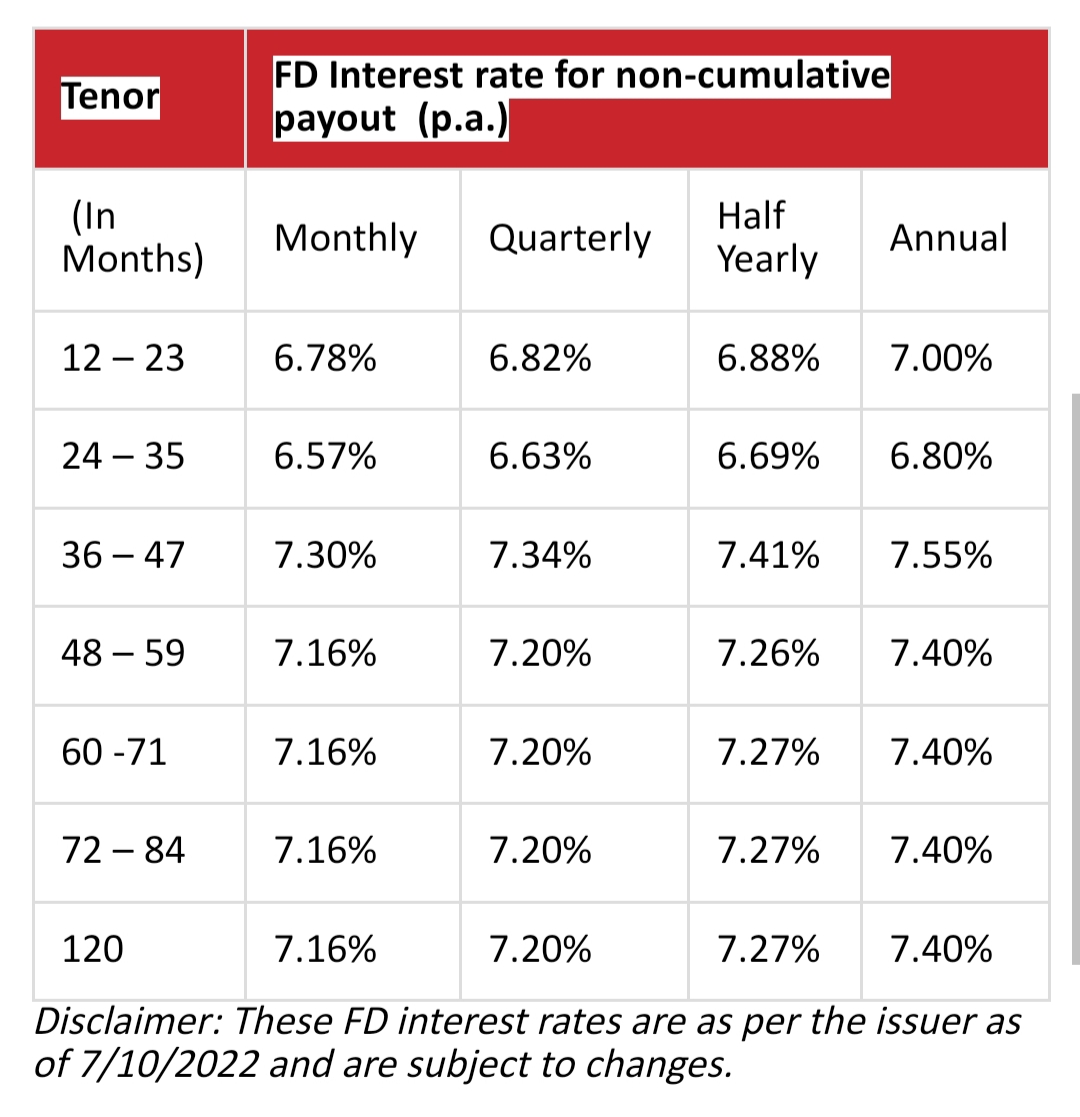 Given these rates, you can choose the right investment horizon based on your goals, be it purchasing an asset, financing education or travel, renovating your home or even medical needs. Remember, as a senior citizen investor, you get an additional 0.25% p.a. on the existing rates for deposits up to ₹1 crore.
What are the advantages of booking a PNB Housing Finance FD?
Apart from the high FD interest rate, one of the main advantages of starting an FD with this company is that you can get financing with ease. You can take a loan for a maximum of 75% of your deposit amount to bridge any gaps. So, if your investment is ₹2 Lakhs and you require a loan against the FD, you can get up to ₹1.50 Lakhs.
While taking a loan against your fixed deposit is a smart way to finance your needs, you may want to withdraw your funds before the FD matures. With a PNB Housing Finance FD, you are allowed to do this after a period of 3 months from the day the FD is opened.
Another benefit that the PNB Housing Finance FD offers is that it allows you to start your investment with an affordable minimum amount. All you require is ₹10,000, and you can book an FD to boost your financial health in the future.
Besides the ease of starting small, the company also makes it easier to invest with doorstep services as well as fully digital services. Based on your convenience, you can choose the mode that suits you best and book an FD from the comfort of your home.
In addition, you can benefit from the easy renewal process of this FD. When your fixed deposit is about to mature, you may either opt for withdrawal of funds or renew it automatically for a specific period. With a PNB Housing Finance FD, all you need to do is provide a standing instruction and fill in the automatic renewal form.
How to start a PNB Housing Finance FD?
Just follow these 4 simple steps:
Step 1: Check the prevailing interest rates based on the FD type and tenor you require
Step 2: Select a suitable tenor for maximum returns
Step 3: Choose the payout mode as either cumulative or non-cumulative
Step 4: Select either the online or offline mode and submit or upload the required KYC documents (ID, age and address proof) and the FD application form
That's it. You will then be contacted to finish the formalities and the process takes less than 48 hours! The process is simple and hassle-free.
How is the PNB Housing Finance FD taxed?
While returns you earn on an FD are taxable, there are no deductions if the total interest earned for a financial year is less than ₹5,000. For senior citizens, the taxable limit is extended up to ₹50,000.
Now that you are familiar with features of the PNB Housing Finance FD, book your FD to grow your wealth away from market instability and earn steady returns. With high credit ratings, the PNB Housing Finance FD is both reliable and convenient.
Subscribe To Our Newsletter