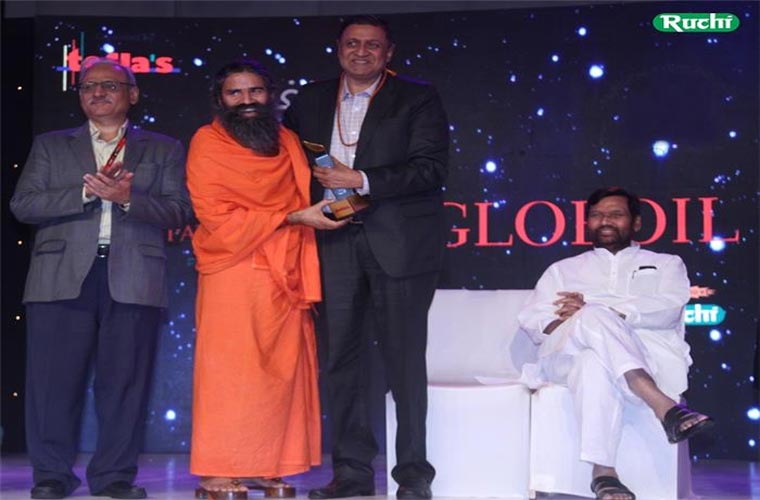 Yogishri Swami Ramdev & Cabinet Minister, Shri Ram Vilas Paswan present the accolades
Mumbai, Maharashtra, India
Ruchi Soya Industries Limited has been conferred with 2 prestigious recognitions for Business Excellence for Crushing and Edible Oil Imports at Globoil India 2017. The awards were presented by Yogishri Swami Ramdev and Shri Ram Vilas Paswan, Minister of Consumer Affairs, Food and Public Distribution during a ceremony held in Mumbai recently. Ruchi Soya bagged the foremost Gold recognition for Crushing; while it was presented the honourable Silver trophy in the category of 'Highest Importer of Edible Oil'.
Mr. Satendra Aggarwal, COO – Ruchi Soya Industries Limited said, "We are delighted to receive these awards for Business Excellence in a premier forum like Globoil at the hands of eminent and respectable dignitaries like Swami Ramdev and Shri Ram Vilas Paswan. The awards are a testament of our constant endeavour to create value for our customers and motivates us to strive for more distinctions."
Mr. Aggarwal further informed, "On the operational front, the outlook is positive. Adequate rains promise a good oilseed harvest. Our crushing and refining operations at our key plants are proceeding well. The policy climate is also positive with the hike in import duty by the Government promoting domestic crushing and refining. Our other businesses, including the plantations and the brands are also doing well. The recent decision to evaluate subsidiarisation and unlock value of the diverse businesses will also give a boost to the businesses."
Established in 1997, Globoil is one of the world's largest events in the Vegetable Oil, Feed & Feed Ingredients, Oilseeds & Oleochemicals industry which is organised annually in India.
About RUCHI SOYA INDUSTRIES LIMITED
Ruchi Soya is India's leading Agri and Food FMCG company with a turnover of USD 3 billion. It enjoys Number 1 position in soy foods category in India and is one of India's largest players in the cooking oils segment of the country. Its leading brands include Nutrela, Mahakosh, Sunrich, Ruchi Gold and Ruchi Star. An integrated player from farm to fork; Ruchi Soya is also among the pioneers of oil palm plantations in India.
It is one of the highest exporters of value added soybean products like soy meal, textured soy protein and soy lecithin. Ruchi Soya has also diversified into renewable energy and is committed to environmental protection as part of its business strategy which reinforces its mission for becoming a truly sustainable company.
Subscribe To Our Newsletter