DMK members, led by their leader M.K. Stalin, were evicted en masse from the Legislative Assembly today as they raised slogans demanding permission to raise the alleged horse trading of AIADMK MLAs before the February 18 trust vote sought by Chief Minister Edappadi K. Palaniswami. The cash for vote scam was exposed by a private television channel three days ago.
Soon after the question hour, DMK members tried to raise the issue, where two AIADMK MLAs had allegedly confessed to the channel that huge money was offered to their party legislators to support V.K. Sasikala's group during their stay at a resort in Koovathur.
However, Speaker P. Dhanapal refused permission as the matter was sub judice. "It is sub judice. Therefore, we cannot discuss here. Once the courts give its verdict, I will allow you to raise the issue in the House," he said.
The DMK members insisted that the matter be taken immediately as the next court hearing was only on Friday.
Dhanapal refused permission and urged the DMK members to cooperate to run the House. When DMK legislators continuously raised slogans and disturbed the session, the Speaker ordered their eviction.
Soon after the eviction, DMK members, led by Stalin, staged a demonstration and blocked the road outside the State Secretariat.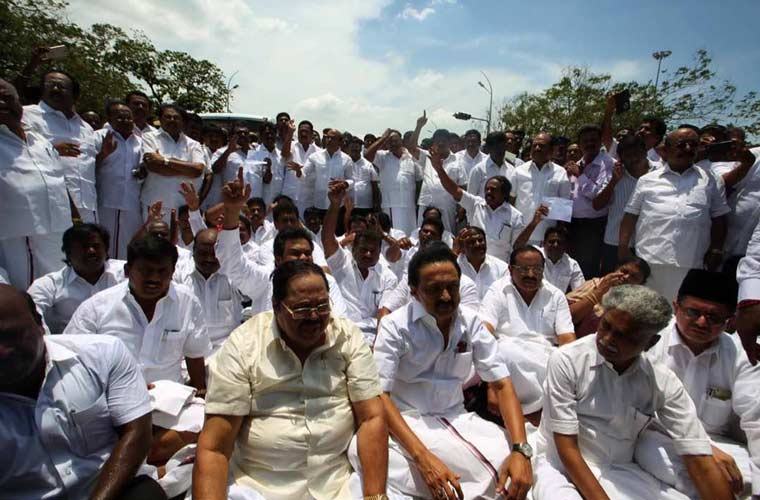 Two private channels broadcast video clips showing Madurai South MLA S.S. Saravanan from O. Panneerselvam's camp and Sulur MLA R. Kanagaraj from Edappadi Palaniswami faction allegedly saying that the AIADMK MLAs were offered money ranging from Rs. 2 crore to 10 crore besides gold to support the Sasikala group.
On Tuesday, the DMK moved the Madras High Court seeking a CBI probe into the allegations made by the two legislators.
Subscribe To Our Newsletter