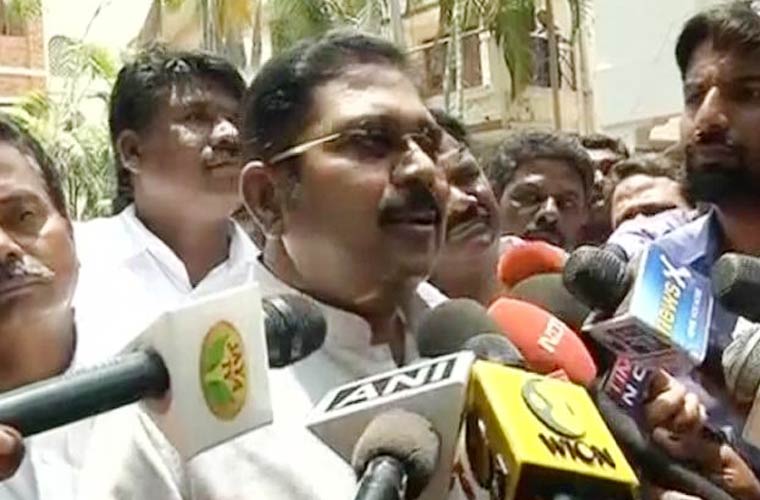 Chennai: In the wake of the AIADMK deciding to keep party deputy general secretary TTV Dinakaran and his family out of the party, the leader has said that none can oust him and he would soon take a decision that would do good to the party.
He told mediapersons late on Tuesday that nobody can keep him out of the party and he was under no compulsion to prove the numbers of legislators supporting him.
Around eight AIADMK legislators met Dinakaran on late night after Finance Minister Jayakumar announced the decision to keep out Dinakaran, the nephew of now-jailed party leader V.K. Sasikala, and his family out of the party.
On the position of the post of general secretary held by Sasikala,
Jayakumar said a committee will be formed to run the party. Sasikala was elected party general secretary in December.
Jayakumar, who made the announcement after meeting Chief Minister K. Palaniswami, said the party was bowing to the wishes of its cadre, people, lawmakers, ministers and others to keep Dinakaran and his family members out of the party.
"We will run the party and the government. We want to save the party and the government from the clutches of one family," he said.
In New Delhi, Deputy Speaker of Lok Sabha M.Thambidurai urged Dinakaran to respect the party's decision. He told a news channel that the families of Dinakaran and Sasikala had suffered much and contributed to the party's growth.
The AIADMK split after former Chief Minister J. Jayalalithaa's death with Sasikala leading one faction and former Chief Minister O. Panneerselvam the other. The latter's camp is in discussions to finalise the future course of action and look at ways for a patchup.
Subscribe To Our Newsletter