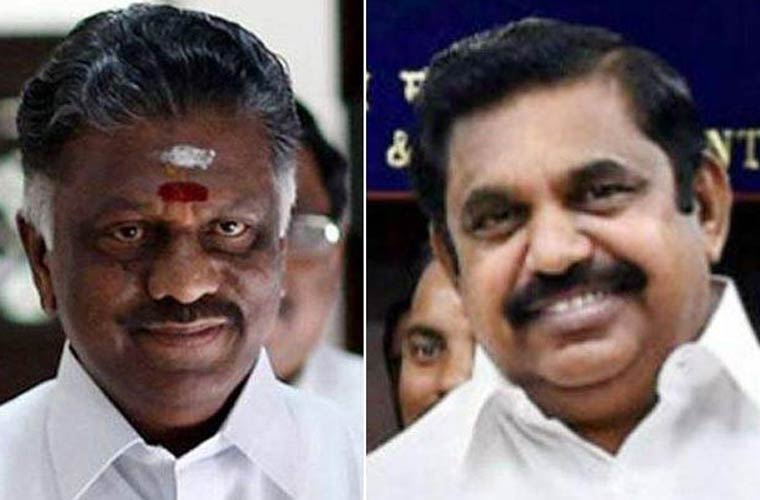 Chennai: Merger talks between the two AIADMK factions have hit the road block after former chief minister O Panneerselvam on Tuesday upped the ante and put stiff conditions – Sasikala, Dinakaran to be ousted and probe into death of Jayalalithaa – for any reunion.
No reconciliation with the EPS group is possible if these two conditions are not met, Panneerselvam told media persons in Theni, and thereby putting a spoke in the wheels of merger talks that the ruling AIADMK faction was veering round to accept.
But this precondition put up by OPS has effectively put a break on the efforts. Moreover, annoyed by the stealthy moves behind his back, AIADMK (Amma) deputy general secretary TTV Dinakaran, lost no time in torpedoing the move, through his loyalist MLA P Vetrivel.
"Who is Thambiduari and who are these ministers to call a meeting and decide on behalf of the party, thundered this MLA considered very close to the Sasikala's nephew. It was Vetrivel who was managing Dinakaran's campaign in RK Nagar bye elections, recently countermanded by the election commission for vulgar display of money power.
Panneerselvam also questioned the very basis of election of Sasikala as the general secretary and all the decisions taken therein. "Her election as party chief itself is illegal," OPS said reiterating his stand when he revolted against Sasikala. General secretary should be elected by party cadres and not chosen by a few persons inside a room, he said.
"Sasikala and her family members were kicked out by Jayalalithaa and they came in through the backdoor and gained control of the party, and through it the government," Panneerselvam alleged vowing to send them packing. "Unless the duo is out, there can be no merger of the two sides," he declared.
This was hotly contested by Vetrivel who charged OPS with greed and lust for power. OPS wanted the chief ministership and six key and lucrative portfolios for him and his team as a precondition to initiate merger.
Late last night, majority of the state's ministers met and resolved to begin merger talks in the overall interests of party unity and prospects in the forthcoming local body polls. Last night state finance minister D Jayakumar said that "we welcome OPS statement on coming together. We also want the two sides to come together."
Tuesday was a series of meetings where senior representative KA Sengottiyan met with chief minister and then went to Dinakaran with the formula for merger. When told of OPS conditions that the Sasikala Dinakaran duo be out of the party, he thundered and rejected any such merger move.
"Sasikala must continue as GS and TTV as deputy general secretary," Vetrivel said.
"For the present, it is a stalemate and the merger is not happening," said a senior OPS camp leader who did admit that a section of AIADMK (Amma) and a small group of Sasikala family are rebelling against Dinakaran and want the OPS camp to smash them.
Subscribe To Our Newsletter