Samichettipalayam, near Periyanaickenpalayam, is a busy area. As soon as we enter the village we can hear the sounds of running looms and see colourful threads all over the area. Weaving is the main occupation for most of the residents here (almost 500 houses).
Most of the Coimbatore cotton, Cora cotton and soft silk saris are weaved here and sent to various parts of the country. It takes one-and-a-half days to complete a simple cora cotton sari.
According to K. Meghanathan, who has been in the weaving profession for more than three decades, they weave only handloom saris that have a shining look. "Cora cotton saris are a combination of silk and cotton. Thew handloom saris have a better finish than the ones made in powerlooms. We weave for private dealers and the wages are decided according to the value of the sari. Our family members also extend a helping hand," he said.
Another weaver R. Mohanraj, whose wife Rani is a member of weaving society, said the Government has provided them with two machines for easy weaving. "There are about 40 members in the society. All the members have been provided with cards that has names and photos of the weaver."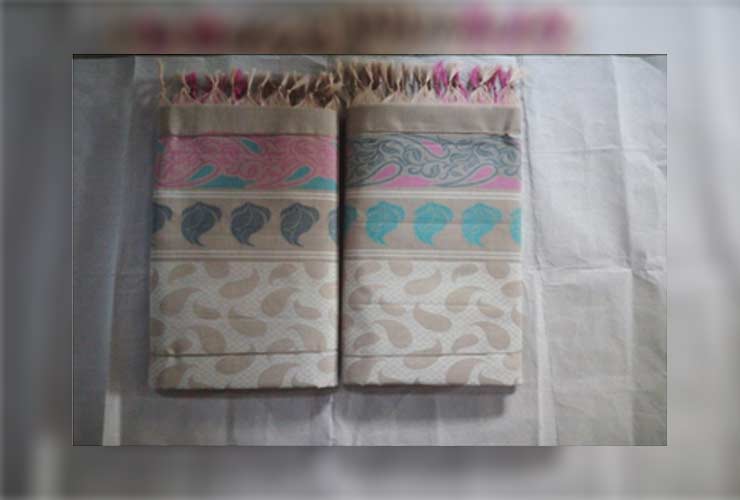 Giving details about the machine he said, "One electric machine will roll the thread into the yarn and the other one, which is called 'lifting machine' is used to weave saris The leg movement is very important in weaving. Jacquard is also fixed in the loom."
"We weave only organic cotton saris which is in high demand. The saris are synthetically safe as we use only organic dyes," he added.
According to M. Ramalingam, retired manager of the cooperative society, said weavers have been given two machines so that it is easy for them to complete the work on time. "Organic colour saris are in high demand now. The threads are sent to Ariyalur and Jayamkondan for organic coloring and zari is bought from Kanchipuram and Mysore," he added.
Subscribe To Our Newsletter