"We can also call them as fruit gardens," says Vaishnavi Balaji.
Explaining about Futuregarden, an initiative which was conceptualized by two German youngsters – Merlin Stein and Yanic Hinrichs – who came to India as part for an exchange program and interned at Siruthuli here where they got familiar with Coimbatore's environmental damages.
"Merlin got to know us through a news report and was impressed. He is a donor to our organisation, Foodbank, that distributes food to the needy," says Vaishnavi, who started the Coimbatore chapter of Foodbank.
"Merlin wanted to do something to the city that would last long. That is how the Futuregarden was born," she adds.
"We have have lost the connection with the environment. That is the main reason why I found Future Gardens. It is a a place where everyone can just sit and relax and listen to the birds chirping," says Merlin Stein's Facebook post.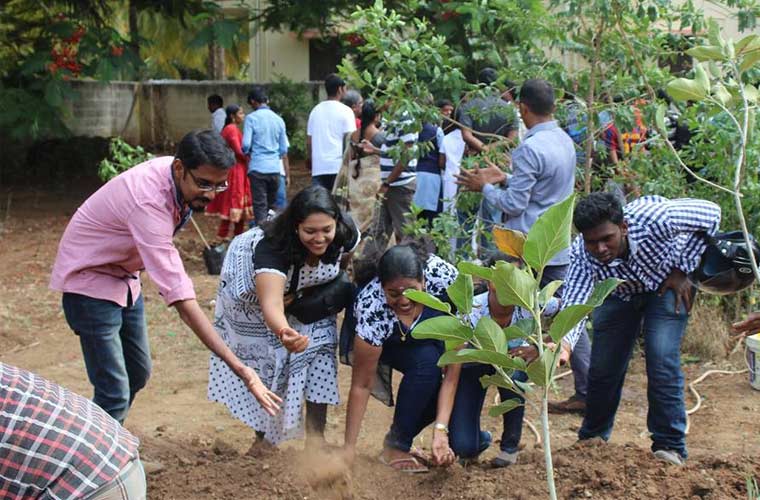 Twenty fruit-bearing tree saplings were planted at Ondiputhur with the help of various NGOs. "Osai helped us getting permission from the Coimbatore Corporation. Environmental Foundation of India (EFI) conducted a street play during the inaugural function.The initiative was inaugurated by Corporation Commissioner Dr. K. Vijayakarthikeyan.
But what is more important is not the inauguration, but how we maintain the saplings. Foodbank and Kasthuri Nagar Owner's Association will water the saplings and maintain them," Stein told The Covai Post.
"The main aim is to create a bird-friendly, kids-friendly, eco-friendly environment. In five years we are hoping to see a fruit forest. Foodbank will also be involved in distributing the fruits reaped from the trees," says Vaishnavi.
Merlin Stein, who is flying back home, says he would love to visit the fruit forest after five or 10 years.
Subscribe To Our Newsletter