UMT Raja is a familiar name in the city. From sugarcane to bamboo and even to gold anything becomes medium for Raja the goldsmith to carve his sculptures and miniatures. What makes him stand out this time is the unusual choice of soaps and carving out the matinee idol-turned politician MGR.
He says that it took him two days to complete all the three carvings. "I made one with a lifebuoy soap bar and the other one with a long soap bar and used enamel paint to colour it. I have also carved the image of MGR in a 400-mg gold strip and have placed it on a pencil's tip," he told The Covai Post.
And why MGR?
MGR's movies philosophically preach self-confidence and honesty to encourage youngsters. He didn't smoke or drink on screen. Everything about him, his policies or his health consciousness, are fascinating. And it is MGR's 100th birth anniversary. I wanted to do something to commemorate the anniversary and I did it.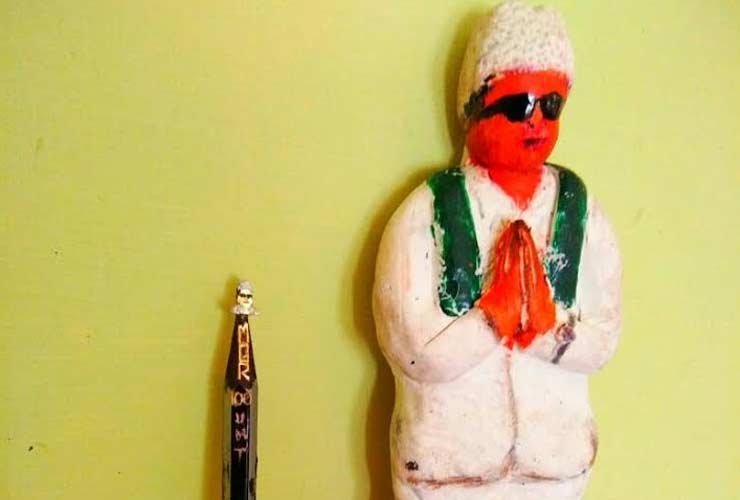 What about the story behind his name – Unnal mudiyum thambi Raja?
I was inspired from the movie 'Unnal mudiyum thambi'.In the movie,the Prime Minister comes and visits Kamal Hasan for his reforms – which is a great achievement. When I was about twenty I tattooed the letters 'UMT' in my hand.
UMT Raja hopes to have his artefacts exhibited at the State Government's MGR centenary celebrations which is to begin soon all over the state.
Subscribe To Our Newsletter