I am a backpacker at heart and any travel plans made by my husband gets me on my feet. Earlier, I would make no plans, no bookings ,just set off to a location of my choice. But now, I can't abandon reason and travel—my 3-year-old keeps a check on that.
Coming from Delhi—being use to scanty rainfall, we value downpours like no other. For us, every droplet from the sky matters–it uplifts our mood, we gorge on some pakoras, soothe our souls with R D Burman's track and waste no time in posting pics of our rainkissed city. But living in Bangalore has normalised rains for me, until a friend of mine declared, " You haven't seen rains in its full glory. You haven't enjoyed greens either.Visit Coorg, the Scotland of India during monsoons. Live in the jungle,and you will soak in both." A few hours drive from Bangalore, this will be the perfect Eid getaway from the hustle bustle of the city, I thought. And before we knew it, it was a team of 9 people setting out from Bangalore to experience the jungle.
It was a 7 hour drive, with many breaks in between. The first being for breakfast, at seven in the morning. Kadamba Restaurant is a clean big restaurant that offered us mouth watering bisibelabath, crunchy vadas, and soft idlis. We were happy and stomach full. Around 1:00pm, we reached Kushalnagar, but weren't in any mood to step out. So, we let the monastery pass. For locating Wild Nectar (our abode for two days), we had our GPS on. But it wasn't easy locating Wild Nectar, the road seemed endless and the destination was nowhere in sight. Wild Nectar is in the middle of nowhere. Wooden huts, Bamboo huts and trees all around—the accurate picture of the place. The 28 acre estate is just a few kilometres from the Ngarhole forest—which had the perfect jungle feel to itself. This was exactly what we were looking for. The red ants, and few jungle specials welcomed us with love bites, that left us swollen in the leg. But that's what we signed up for. The torrential rains, muddy puddles, the trumpeting of elephants and the night calls from the nocturnal world kept us entertained. Even though, the environment was idle for some conversations with self, we had no time for that. We brightened up the jungle with music and dance. This was a trip that rejuvenated us mentally and exhausted us physically. We were pacing up and down for food, danced till wee hours and challenged our bodies with physical activities that were part of our childhood. In many ways, it was a trip down the memory lane–how growing up in the 80s meant no mobiles, no egames and no structured happiness– just pure fun.
The places we visited:
First Day:
Irupu falls: 20 km from Nagarhole National Park, 10 km from Kutta, the drive to the Iruppu Falls is amazing. Situated in Brahmagiri Hills between Srimangala & Kutta in Coorg, this place is as touristy as it gets. Before starting our ascend, we gorged on some pineapples, sprinkled with red chilli powder and chaat masala. After gathering some strength from the healthy bite, we climbed almost 1 kilometre or more.
Dropping from a height of 170 feet through several stages, the falls are situated amidst thick forest of Western Ghats. The roaring waters of the Irupu Falls and the picturesque surroundings makes it worth the effort. Timings: 8 AM – 6 PM
First Day:
Nagarhole National Forest : 20 km from Iruppu Falls, Nagarhole National Park is one of the best wildlife sanctuaries in South India and a top tourist attraction in Coorg. Originally the forest area was the private hunting ground for the Maharajas of Mysore which got converted into a sanctuary in the year 1955 covering an area of 258 sq. km and subsequently enlarged to include the adjoining areas of Mysore district and now extends over an area of 643 sq. Because it is monsoon season, the safari is closed. But we drove through the forest, and exhilarated at the sight of many deers and an elephant. Park Timings: 6 AM – 6 PM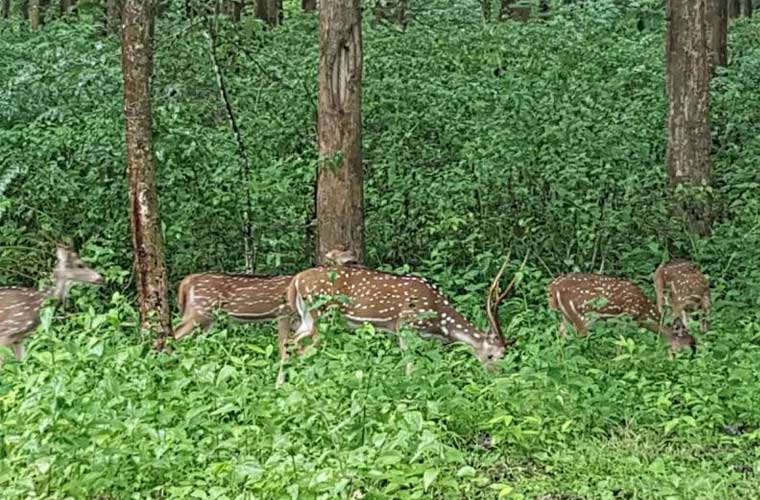 Entry Fee: Rs. 200 for Indians & Rs. 1000 for Foreigners
Safari Timings: 6 AM – 8 AM and 3 PM – 5 PM
Bus Safari: Rs. 100 for Bus Safari
2nd day, while returning back
Tibetan Monastery: 4.5 km from Kushalnagar, the Golden Temple or Namdroling Monastery is a beautiful Buddhist Monastery situated in Bylakuppe. Bylakuppe is the second largest Tibetans settlement in India after Dharamshala. We made it just on time to see the monks offering prayer. It was a sight to behold. We were hard pressed for time, but didn't leave without tasting the chicken momos on the road side restaurants. Timings: 9 AM – 6 PM, Prayer is at 1 PM and it is a wonderful experience to watch the prayer.
Subscribe To Our Newsletter