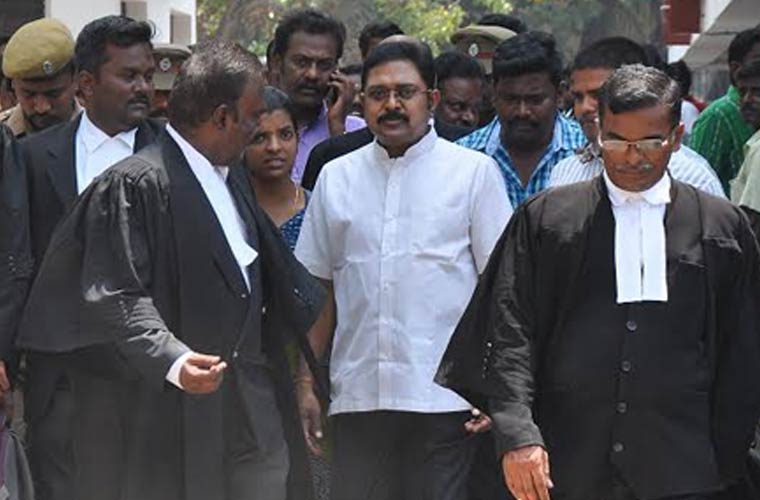 Chennai: The Deputy General Secretary of AIADMK (Amma), T.T.V. Dinakaran, on Wednesday said that he would stay away from the party and decide on the next course of action after consulting his aunt and party General Secretary, V.K. Sasikala, who is languishing at Parappana Agrahara prison in Bengaluru.
Referring to the decision taken by group of Ministers, led by Chief Minister Edappadi K, Palaniswami, to completely side-line him from the party, Dinakaran said "I do not know why they (Ministers) have taken such decision. If they feel that the party will be benefited, I will do that. However, I will take my next course of action after consulting my aunt."
They have decided to keep me away from the party "due to unknown fear. It will be good if they take a right decision for the development of the party," he added.
Dinakaran said he would direct his supporters to stay united and support the Government. "I will not fight with anyone to prove anything. I will ask my supporters to be united with the Ministers for the development of the party and as well as the Government," he said.
Dinakaran said that he was not under pressure or compulsion to prove the number of party MLAs who were supporting him. "Right decision will be taken soon," he remarked.
Meanwhile, terming the Ministers' decision to show the door to Dinakaran and his clan from the AIADMK as his "first victory", former Chief Minister O. Panneerselvam said "they (ministers) have taken a good decision. Our victory journey will continue".
Panneerselvam said his high-level team would hold talks with the Ministers and take a decision as per the wishes of party workers and people of the State.
Subscribe To Our Newsletter