Reading maketh a full man, says British essayist Francis Bacon. Book exhibitions are held with an objective to sow the seeds of reading among all and make them a person with great understanding of life. Unfortunately, they have become commercialised in the highly commercial world.
When commercialisation reigns supreme, there always is a struggle for non-commercial approach too, at least in a small but meaningful way. The 10-day book festival in progress in 3-tier town Dindigul is a classic example for this non-commercial element.
Organised by Dindigul Ilakkiya Kalam, it serves as a model for how book fairs ought to be conducted. "This is not a run-of-the mill book exhibition. It stands out from the rest in the sense that the events lined up for the 10 days of the festival send across strong and powerful messages, setting the tone for social change,"says writer-activist Muthu Krishnan, who delivered a speech on 'Keezhadi – Tamil Panbaattu Pudhayal' (Cultural treasure of Tamils) at the fair.
Another notable feature, he lauds, is the organisers' novel efforts to woo children. They distributed hundials (piggy banks) to 20,000 kids in various schools across the town in association with the district administration three months ago, asking them to save money to buy books at the upcoming festival.
"The literary organisation collects the money by these kids and issues them tokens with which they can buy books for the 80 per cent of the money they have saved and snacks for the remaining 20 per cent. This innovative scheme motivates children to buy books and nourishes them with the habit of reading,"Muthu Krishnan says.
It has received appreciation from journalists too. Magesh, a senior journalist, takes a dig at BAPASI (Booksellers and Publishers of South India) that conducts annual book exhibitions in major cities in Tamil Nadu.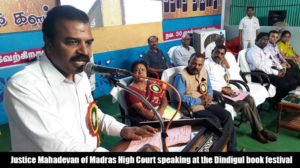 "Publishers, sellers and literature enthusiasts, please pay a visit to Dindigul to get to know how a book festival should be held. It is a must for the new office-bearers of BAPASI. Whatever you have been conducting so far is called 'book market', not 'readers festival," he says in his Facebook post.
The festival is aimed at turning children into avid readers. To not fail the kids who cannot afford to buy a book, the organisers, Magesh says, have come up with a scheme wherein volunteers can deposit books at the expo office in the venue which would be distributed to poor children.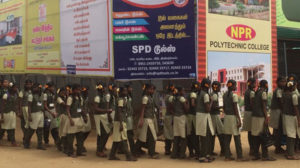 R.S.Mani, vice-president of Dindigul Ilakkiya Kalam, says, "Initially, the challenge was to make children buy books. After we were successful at that, there was a question as to whether they read the books they buy. To ensure that they read, this year we introduced a new event, 'Vaanginaen, vaasithaen, pahirndhaen' (Bought, read, shared) in the festival, in which many of them shared their thoughts on the books they bought and read." The organisers are planning to make this 'sharing' a 2-day event in the next year's festival schedule.
To complete Bacon's saying – "Reading maketh a full man; conference a complete man; and writing an exact man," the Dindigul Ilakkiya Kalam's book festival, patronised by senior IAS officer Vallalar, grooms children to become writers.
Subscribe To Our Newsletter