Music director and actor G.V.Prakash has initiated a crowd-funding campaign to help 500 families of Kanyakumari affected by cyclone Ockhi.
"After Prakash helped Selvarani's family, who has lost all male members to the sea, with groceries and some amount of money for present and has adopted it, other families whose fishermen are also missing approached our volunteers for assistance. To help them sustain their families at this hour of crisis, Prakash has decided to mobilise aid through crowd-funding," the actor's friend P.Gunasekaran told The Covai Post.
He has roped in Edudharma, an online crowd-funding platform, through which money would be collected from the people willing to contribute and handed over to an NGO – Save Farmers, that would buy groceries and distribute them to the affected fisher families.
"We have fixed Rs 2000 for groceries per family and this itself runs to Rs 10 lakh. Prakash is hopeful of crowd-funding the amount within a period of 10 days. Though this is only a temporary measure to bail out the affected families and take care of their immediate needs, we hope the government would provide them relief,"Gunasekaran, who has been working with Prakash to help people of Tamil Nadu affected by various issues, said.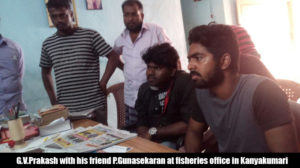 According to Gunasekaran, this is the first crowd-funding initiative Prakash has launched on his Twitter handle on Saturday evening, though he personally has donated Rs 2.5 lakh for construction of toilets in government girls' schools at Thailapuram in Virudhunagar district and Kallakurichi.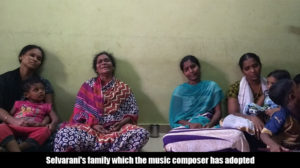 The young music composer and actor, who has of late been showing interest in social issues, paid a whirlwind visit to Chinnathurai, Neerodi and Kayalkarai in Kanyakumari district on December 10 and met the families whose fishermen have gone missing in the aftermath of Ockhi and expressed his solidarity with them. He has also adopted the family of Selvarani of Chinnathurai, about which The Covai Post has published a detailed story, after listening to their plight.
(The story has been updated)
Subscribe To Our Newsletter