When Ockhi hit Kanyakumari and rendered a large number of people homeless, those in power took time to reach them. But a few good samaritans reached the affected people immediately and did everything to ensure that the people got everything to carry on with their life.
Members of the Inner Wheel Club of Nagercoil were the first ones to respond to the cries of the people of Kanyakumari. They swung into action immediately and started mobilising funds. "We visited Thachamalai village in a boat. We were the first ones to reach the people there and distributed relief materials including tarpaulins, saris, dhotis and towels to 56 families. We also promised to get back to them with more essentials," said Mythili Sundaram, Treasurer of Inner Wheel Club.
The members also visited several relief camps and distributed relief materials.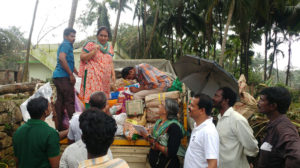 At Thottamalai village, the members distributed bedsheets, groceries and tarpaulins to 36 families. "It was a rough terrain. The entire village was completely destroyed. It took three days for the people to reach a safe destination," she said.
According to K. Sarveshwari, member of NGO called SEEDS at Kulasekharam in Kanyakumari, her organisation ensured that water tanks were installed and pipelines connected so that people could store water. "We were not at all satisfied with what the Government had done to the people. Even now we can see branches of trees on rooftops. More than 20 houses have been destroyed in Alampari village. Only the NGOs and private organisations are working day and night to help the people in getting back to their normal routine life," Sarveshwari added.
Subscribe To Our Newsletter