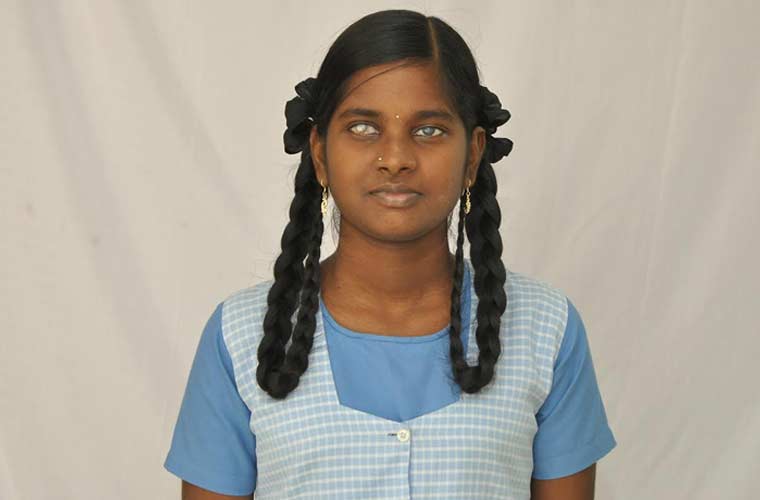 With powerful hearing aids at the table in front of them, 28 girls sat down to learn the 12th standard syllabus. In Little Flower Convent Higher Secondary School for Blind and Deaf Girls, we feel a sense of pride in the voice of the Principal, Sister Jesintha Rosalind, when she talks of her school toppers in the 12th standard Board Exams.
"Even with the regular state board 'samacheer kalvi' syllabus and normal teaching pedagogy, our students were able to achieve 97% pass percentage", she says, crediting the victory to the hard work of the students, their supportive parents and the diligence of teachers.
M. Nivetha who secured 927 out of 1000 secured the first rank, while S.Saranya with 904 and S.Priya with 885 followed her stead. Nivetha's father is a daily wage labourer and their family faced a lot of problems yet the student was able to pass with flying colors in all papers, especially Commerce, Accountancy and Business Maths. "Continuous revision during the weekends from January has helped my students greatly", said Sister Jesintha.
Asked about their future plans, Sister chuckled and replied that they aspire for bank jobs. "Before that, we provide these children with one year coaching in English as they belong to Tamil Medium learning. To.make sure our students do not face adversities in college we also provide vocational training like basic skills in Computers and other courses. This helps them greatly when they join jobs as well," she said.
Affiliated with MGR Janaki College of Arts and Science, the school's are often aided efficiently and even provided with jobs within the campus. "Contrary to what people think, these children are very much like other children out there. Many of our students have been placed in offices such as Scope International proving that they have what it needs to make it in this world. One of the alumnus from our schools even when to receive teacher training," she said.
The 90-year-old Model School also saw achievement in their visually challenged students as well. Out of 20 students, M. Andal who secured 1112 out of 1200 bagged the first place, while M. Muniswari with 1090 and Bhavani with 1077 secured the second and third ranks."I am not surprised. Andal was first rank in 10th standard as well. A brilliant and obedient student, she aspires to be an IAS officer," says one of the staff member. They also proudly disclosed that they have a pass percentage of 100%.
Using a user-friendly talking software named Jaws and Braille form of learning, the students were able to complete their theory and practical papers efficiently. "We follow the humanities group, State Board syllabus and teaching pedagogy used in normal school. The difference lies in our 1:8 teacher-student ratio. Every student receives individual attention and opportunity to interact", she reveals.
Thanking volunteers from iNautix for their efforts to help the students train in vocational courses, the Principal also hoped for more awareness about job opportunities for the differently-abled as most of them are first generation learners as well.
Subscribe To Our Newsletter