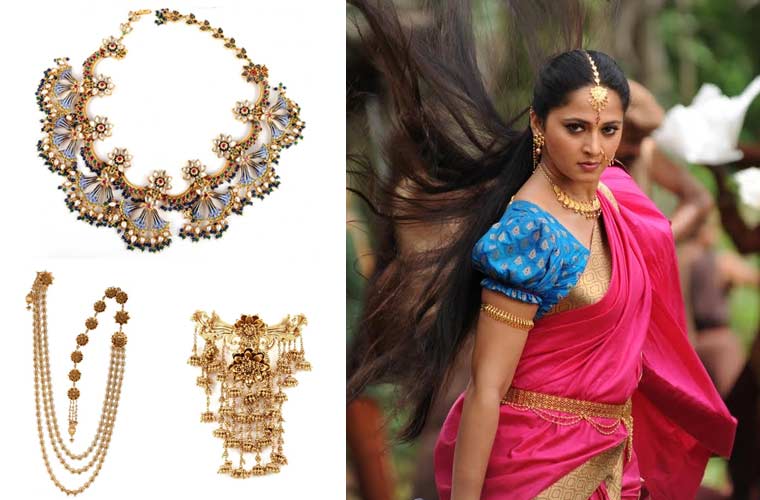 Bengaluru: Much has been spoken about Baahubali 2: The Conclusion, the magna opus that people can't stop raving about. The impact of the film is so overwhelming, that people are still talking about the experience of watching it in theatres. And undeniably, what made them so visually appealing was their costume and jewellery. Those big earrings, from traditional jhumkas to the danglings, those heavy neckpieces and the nose rings– there is no way you can miss these, if you have watched the movie. Amrapali , the official jewellery designer for the second film in Baahubali franchise, took two years to design for more than 3000 pieces, of which approximately 1500 made to order pieces were sent for the film finally. " We assigned 3 dedicated designers for this project. There were almost 3000 pieces that were made over a period of two years, of which roughly 1500 got discarded and 1500 were finally sent for this mega movie. We were working in tandem with the director's vision. We were creating pieces keeping in mind the their emotional and physical journey of the character that we are designing for," says Tarang Arora, Founder, Amrapali Jewellers.
For a period drama such as this, the embellishments should further reiterate the character and the role. " The main task for us was to design for Sivagami and Devasena. We designed bold, strong necklaces , bangles and earring connected with the hair for Sivagami–to give her that regal look. Her jewellry was in gold, whereas, for Devasena, who came from a small kingdom would wear jewellry which is more girly, so we used pearls for her. But her transformation from a princess to the queen demanded another collection, so we designed that as well. For Bahubali's character, we used silver initially, as he was a tribal man–we kept in mind the background of each character while designing," he explains.
The characters in Bahubali 2 wore a lot of jewellry, compared to what was worn in Bahubali 1 and many pieces struck a chord with fans. But can these over-the-top pieces be worn in today's time? "Sivagami's earrings, Kattappas's hasli has become famous. People are coming to buy these jewellry. We have created these pieces keeping in mind the modern contemporary women who would also like to wear them. I think some of these pieces would go well with a kanjeevaram as well as with a black dress," Tarang sings off.
Subscribe To Our Newsletter