Image credit : Illustrative Image
After the controversial short film 'Lakshmi' that came from the stable of Gautam Vasudev Menon's Ondraga Entertainment portraying a married woman's sexual freedom or what many others perceive as a woman's one-night stand, what is on the boil on social media now is 'Naachiyaar' named after Tamil warrior queen Velu Naachiyaar who fought against the British in the 18th century.
The 52-second teaser of the film having Jyothika and G.V.Prakash in lead roles and directed by Bala was released on YouTube and on the Twitter handle of actor Suriya on Wednesday evening. Within 24 hours, the teaser has clocked about 20 lakh views, over 55,000 likes and 3,000 dislikes.
But what has courted controversy and kicked up a row is police officer Jyothika's use of a cuss word that when translated means sons of a sex worker.
That it is uttered by none other than Jyothika, who through her recent films such as '36 Vayadhinilae' and 'Mahalir Mattum' received much appreciation for meaty roles which nullify the need for a stereotyped hero subject, has evoked sharp criticism. The teaser ends showing her as a police officer slapping a man and spouting the derogatory word with disdain in her eyes.
While the women who voice their concern without fear or favour on the social media took objection to the use of the word which came as a shocker to many others just because it was mouthed by Jyothika, there were also reactions ranging from one has to wait and see the circumstances under which she is swearing to when use of such cuss words in English at the drop of a hat is not seen as insulting, a hue and cry is raised only when they are in Tamil.
Some, including women, expressed that it should be seen only as a swear word, that is commonly in use, without attaching any moral value, while U Vasuki, national vice-president of AIDWA (All-India Democratic Women's Association), posted, "It is a word that degrades womenfolk and its origin stems from men's creation of a community (of temple dancers who were sexually exploited) to satiate their unfettered sexual urges. Several struggles have taken place in the past to bring the curtains down on the system. It cannot be accepted under the ruse of being a common usage." Questioning the necessity to squeeze in the misogynistic term in the teaser, she said what else can it be other than making Jyothika utter the word to create a sort of shock to gain commercial mileage.
As for men, many of them have dismissed it saying opposing movies and getting worked up for nothing has become fashionable and some have praised Jyothika for being 'bold' and 'çasual'.
But for Bala, even before the film, for which music is scored by Ilayaraja, is released, he could muster publicity, negative though.
Trailer link : https://youtu.be/bg3hJuBtE-8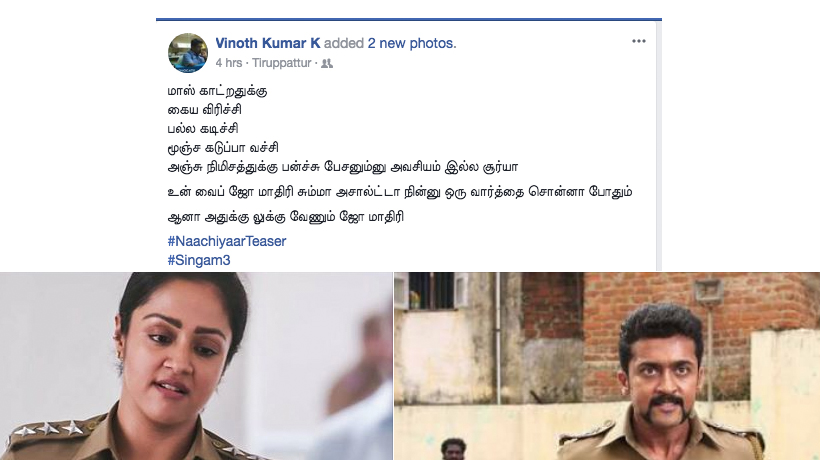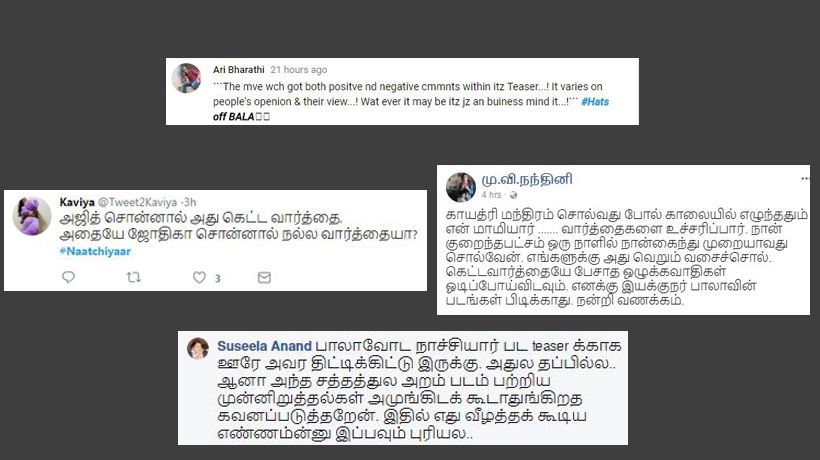 Subscribe To Our Newsletter