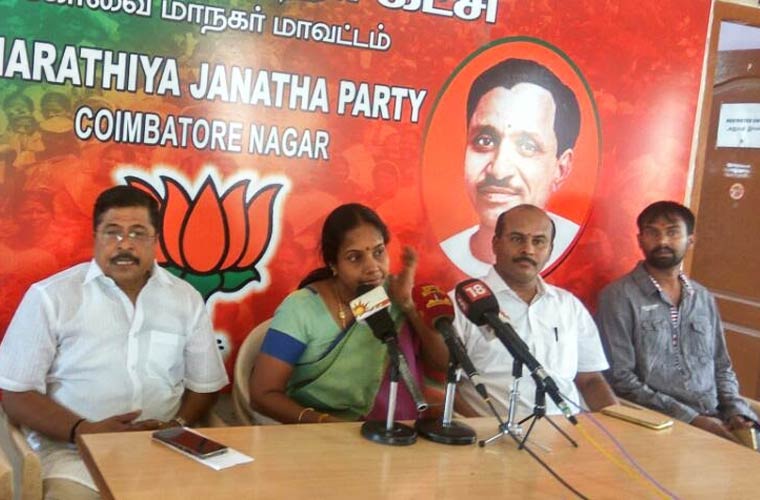 With the Kodanad Estate murder and burglary case taking new twists and turns each day, BJP's State General Secretary Vanathi Srinivasan has called for a detailed investigation into the case.
Vanathi said this while briefing media in Coimbatore on Wednesday to announce the visit of the party's National President Amit Shah to the city on May 11. Amit Shah will meet people from various sections of society on this day when members from other parties are expected to join the BJP, according to Vanathi.
Vanathi said the Kodanad Estate incident, which involves a certain 'will' left behind by late chief minister J Jayalalithaa in the luxury resort, has turned heads because of the gravity of the political situation prevailing in Tamil Nadu.
"This has happened at a time when some MLAs from the AIADMK themselves raised suspicions over the demise of Jayalalithaa. This must be probed and truth should be revealed," she said.
Denying claims of various political leaders that the BJP-led central government was trying to control the administration of the state, Vanathi said that those were false accusations and added that the centre had no in hand the AIADMK rift.
The announcement has come in the light of Tamil Nadu Chief Minister Edappadi Palanisamy's advice to his cabinet ministers and party members to not talk ill of the central government in a party meeting recently.
Responding to the claims made by AIADMK spokesperson Nanjil Sampath about BJP's hand in AIADMK's discord, Vanathi said that neither the cabinet ministers nor the Chief Minister were raising such thoughts.
"We can only say that the political scenario in turn has turned the attention of people towards the BJP," she claimed.
Subscribe To Our Newsletter