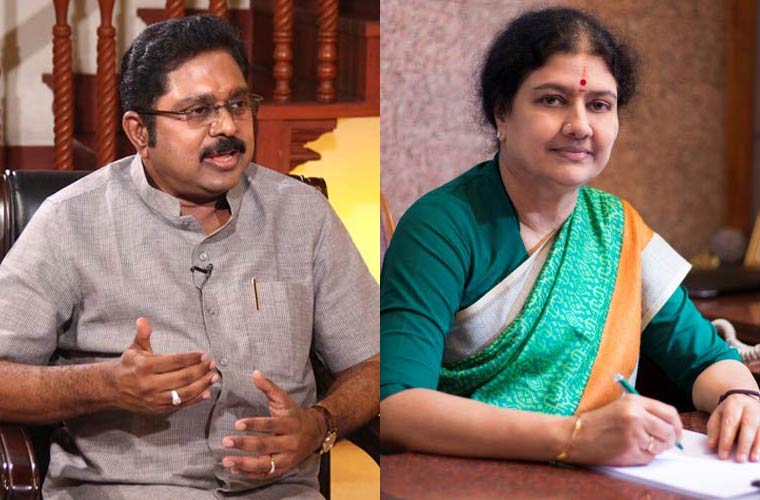 However, Dinakran denies these as mere rumors just before leaving for Bnagalore to call on his jailed aunt, VK Sasikala to inform her and take instructions on the crisis handling.
Chennai: The Mannargudi Mafia is in trouble. Under pressure from within the ranks of AIADMK (Amma) and hit by fresh trouble on bribery allegations, deputy general secretary of the party TTV Dinakaran is running for cover. On Monday evening when he announced going to Bangalore to visit his aunt in jail there has reportedly not shown up at the jail.
Amid speculations that he could be avoiding a team from Delhi police that is arriving in Chennai tomorrow, Dinakaran claimed he was innocent and denied any knowledge of the allegations made by the Delhi police that he had tried to bribe the election commission officials to secure the two leaves symbol for his faction.
"I have never met the person who the Delhi police arrested and saw the news only on television as I was getting ready to go to Bangalore to meet Sasikala," he told media persons. He also flatly denied as "mere rumors" that ministers had given him an ultimatum to quit the party.
But his no show at Bangalore jail has fuelled speculations if Dinakaran was trying to avoid the Delhi police team that has sought CRPF protection when visiting Chennai to question the ruling party functionary, especially in the light of the treatment given to the IT officials conducting raid at state health minister C Vijayabhaskar earlier on April 7.
Meanwhile deputy Lok Sabha speaker M Thambiduari held discussions with chief minister Edapaddi Palaniswami on the damning raids on ministers and cases filed against three ministers. There is growing clamor within the party to drop the ministers.
Many MLAs are scared that if they support Dinakaran, they too could be the targets for raids and this is something not many would relish as they may also have some skeletons to hide.
For the first time since the trouble erupted for the Sasikala camp, starting with the cancellation of RK Nagar bye election for alleged misuse of money, O Panneerselvam has openly invited all party workers and leaders to come over to strengthen the party.
"Though no one has come so far, anyone crossing over will be welcomed," OPS told media persons just before departing for Madurai enroute his native Theni district.
According to sources, at least four ministers are negotiating with OPS camp, on the modalities of unity of the two factions. One formula being discussed is OPS as chief minister and Edapaddi as deputy CM with the party leadership wresting with OPS as well.
One thing is becoming clear.
The Sasikala family is increasingly coming under pressure. The MLAs too have realized that if they continue to support her, they would begin to lose support of the people. And there are local municipal bodies polls round the corner.
Subscribe To Our Newsletter