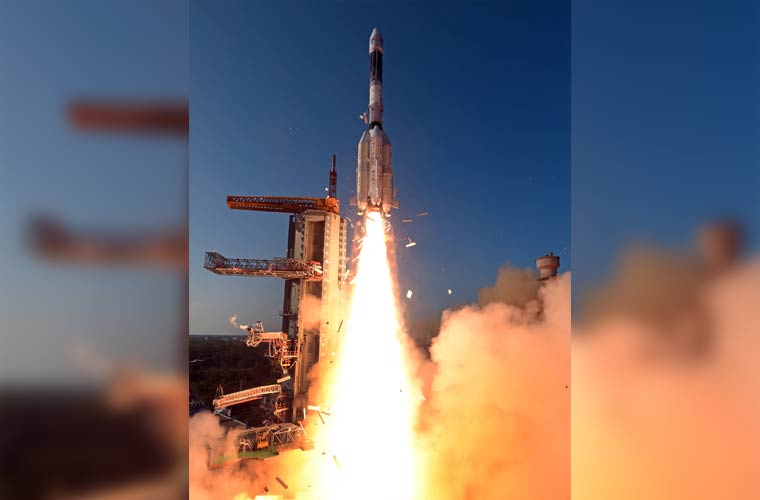 Chennai: Indian Space Research Organisation (ISRO) today successfully launched South Asia satellite GSAT-9.
India's Geosynchronous Satellite Launch Vehicle (GSLV-F09) carried communication satellite GSAT-9 from the second launch pad at Satish Dhawan Space Centre at Sriharikota on Friday evening.
The satellite is configured around ISRO's standard I-2K bus with lift off mass of 2,230 kg.
The main structure of the satellite is cuboidal and built around a central cylinder with a mission life of more than 12 years. It has the potential to be utilised for various broadcasting and interactive telecommunication applications.
These applications would benefit member countries to address their specific needs. It will also be used for supporting applications that include disaster management, broadcast of meteorological data and networking of academic, scientific and research institutions.
The intended applications of GSAT-9 satellite, which costs about Rs 230 crore, are expected to strengthen the regional cooperation among member countries.
After injection into GTO, the two solar panels of the satellite are automatically deployed in quick succession for meeting power requirements. The master control facility at Hassan takes care of the operations, including orbit raising manoeuvres.
GSLV-F09 mission is the 11th flight and fourth consecutive one with the indigenous Cryogenic Upper Stage (CUS). The vehicle is designed to inject 2-2.5 tonnes class of satellites into GTO.
The success of the previous GSLV mission in September provided the much-needed boost for future GSLV missions to launch satellites weighing 2-2.2 tonnes using the country's indigenous cryogenic engine.
Subscribe To Our Newsletter