The legacy of Tamil Nadu Agricultural University (TNAU) will continue to exist even beyond 100 years, Former Director General of Indian Council of Agricultural Research, Dr S Ayyappan said today.
Appreciating the achievements in setting an example to all other agricultural institutions in the country, Ayyappan pointed out that TNAU's legacy will continue to exist even beyond 100 years.
In his address to 47th Foundation Day and Open and Distance Learning (ODL) Graduation Day of TNAU here, Ayyappan emphasised the need for a combination of science, sense and skill for achieving transformation in
agricultural research areas like nanotechnology, energy and rhizotron technologies.
TNAU Vice-Chancellor, Dr. K. Ramasamy, in his keynote address recollected the transformation of the University as number one in India from a small farm school at Saidapet in 1863.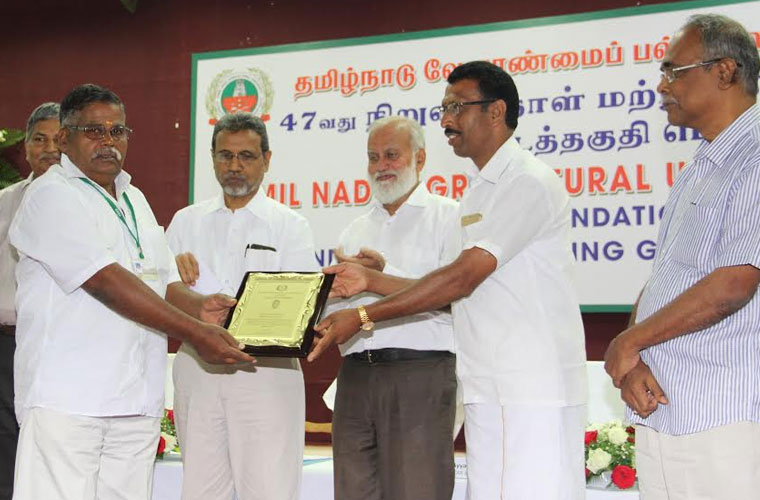 He lauded the interest of the farming community to update themselves on agricultural technologies through and emphasized the need for better coordination among all agencies involved in marketing to bring about major transformation in agriculture and better profitability to farmers.
ODL Director, Dr. P. Santhi briefed about the features of B.F. (Technology) course, which is the first of its kind in India.
The 3 year course, comprising six semesters aims at transforming the farmers into job providers and so far 332 farmers and entrepreneurs have obtained their graduations through this programme, she said.
BF Tech degree was awarded to 60 farmers and entreprenuers.
TNAU staff who have put 25 years and drivers who have put up more than 10 years of unblemished service were honoured on the occasion.
Subscribe To Our Newsletter