Coimbatore : The most awaited, glitzy and chic lifestyle pageant of Chennai, Meena Bazaar turns 16 and comes to Covai with a bang.
Being launched in style on the evening of 18th with a glittering fashion show curated by the much sought after Lakme India Fashion Week designer Somitra Mondal, the annual lifestyle exhibition brings together a galaxy of fashion designers, jewellers, artists and artisans from all over India under one roof.
The proceeds of this expo goes towards ensuring a colorful Diwali for the tribal people in and around Coimbatore district. The clothes will be given away by the Rajasthan Cosmo Club Foundation in association with AES Technologies, Coimbatore and the Naxal Special Division of the Coimbatore police as part of their tribal welfare measures initiatives.
The two day expo scheduled on September 22 and 23 at Residency Towers and will have 200 exhibitors and a record average footfall of 14000 visitors. The event will be inauggurated by the Commissioner of Police K Periaiah and Ms Swathy Rohit, CBO, Ramakrishna Hospital .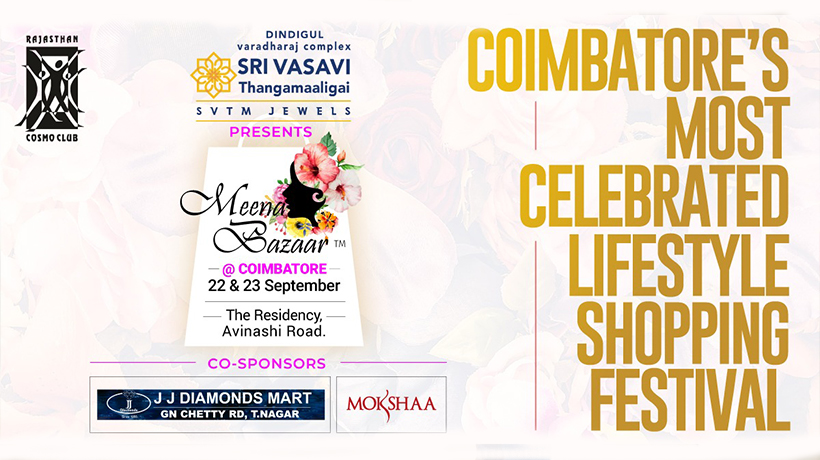 Timed just right to mark the beginning of the year's festive season and staying true to its reputation of being a mega shopping event the exhibition is going to be open till the wee hours of midnight on the first day of its opening so that you can literally shop till you drop!
And if you need to take a break in between your shopping marathon there is no need to step out because there is also an enormous food court with fresh mouth-watering chats and exotic fusion foods to take care of your hunger pangs and sweet tooth.
The most notable part of this massive gala is that its all being done for a noble cause. Conceptualized and conducted by the city's premier charitable organization Rajasthan Cosmo Club Foundation, the proceeds of this event are earmarked to various charities being run by them.
Helping them in their philanthropic initiative are generous patrons and sponsors, chief among whom is Vasavi Thangamaligai who have come forward to be the main sponsor of the event. Contact +919841026264 Mr Sanjay.
Subscribe To Our Newsletter