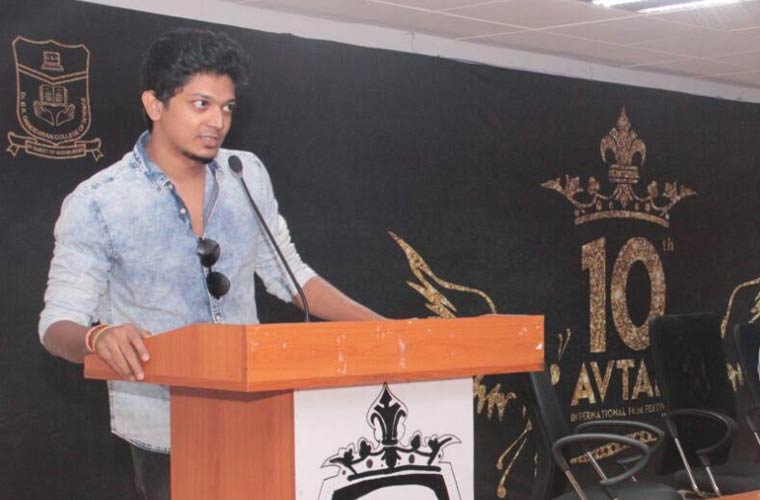 Actor Sri (Sriram Natarajan) who is back in the reckoning after his performance-oriented role in `Maanagaram', a recent release which has been well-received and is running successfully. The 24-year-old actor was in Coimbatore to take part in the 10th edition of AVATAR, a short film festival hosted by G.R. Damodaran College of Science, as guest of honour. Sri has won critical acclaim for the roles he has essayed in films such as `Vazhakku Enn 18/9 ( Vijay Award for the Best Debut Actor) and `Onayam Aattukuttiym'.
He says he likes to act in films with strong scripts. As an ebullient youth in `Vill Ambu', speaking a slum lingo, Sri has entertained the audience. "Maanagaram" his new release is running to packed houses now. Excerpts from the interview.
Can you tell us about your early days and struggles, which finally fetched you a creamy role in Vazhakku Enn 18/9
As a person from a non-filmy background I had to go through the initial struggles like all the stars you see today. Finally I landed up with my first role in Vazhakku Enn 18/9, which is directed by an eminent director Balaji Shakthivel. This fetched me critical acclaim and praise. The director had sent to me to roadside eateries for two months to learn about the mannerisms of my role in the film. It was a big hit and a critically acclaimed one. Though Balasakhthivel did not pick me for his "Kalloori", whose audition test I had undergone, he did choose me for Vazhakku Enn. I later signed Onayam Aattukuttiyam with director Myskin, followed by Suseendran's "Vill Ambu".
You have acted only in five films so far since your entry in 2012. Why it is so?
Fortunately or unfortunately, I got the offers only to act in strong, story -based scripts, which I think will help me in the long run to emerge as a good actor. So far I have acted in critically acclaimed films, which also have been commercial hits. I also missed the opportunity to act in "Soothu Kavvum", a run- away hit, for I was so choosy when it came to scripts.
Why you haven't acted in a light- hearted Rom-com and emerged as a mass hero?
Yes, I would like to act in a Rom-com like "Siva Manusula Sakthi" which is a mass entertainer. If such offers come my way I will sign them. I am also interested in acting in films of director Maniratnam, my favourite.
Your recent film "Maanagaram" has been a crowd puller and a critically acclaimed film too. Can you tell us about your experience?.
The film is by a young team, and we have delivered what best we can. It is well received by all the sections of the audience all over Tamil Nadu. A crime thriller, it has a strong story line, which will be a new experience for the audience. Moreover, director Lokesh Kanagaraj and I shared a good chemistry which helped us in the sets to essay the role to perfection.
Subscribe To Our Newsletter