What happens when people take their love for adventure to another level. Meet Nishant Patel and Mit Bhatt who have made India proud by being the first Indians to set records in Asia and India under the category of extreme adventure sports – Nishant Patel has set records with Asia Book of Records and India Book of Records as the first Asian for 'Deepest and Fastest Scuba Cycling Undersea' and Mit Bhatt has set a National Record with Limca Book of Records and India Book of Records as the First Indian Civilian to Fly Highest & Fastest to the Edge of Space whilst Enduring Maximum G-Forces'.
Talking about his feat Nishant Patel says, "I always like to challenge myself to take the adventure to another level and I am very thankful to the two PADI certified Dive Centres in India for enabling me to achieve the unattainable. During my many practice sessions, I realised that to be able to cycle at a depth of 30m+ (100+ feet) and allow myself a safe & longer bottom time and to achieve the target would be a challenge. I would need about 20-25 minutes to cycle the 100m distance factoring in any currents, surface conditions, obstructions and atmospheric Pressure (ATM) etc., and that was bigger risk and the real challenge! But accomplishing my aim and creating this record wouldn't have happened without the excellent guidance of the diving instructors at both the dive centres I developed and practised this adventure with and a robust cycle that required modifications to achieve this feat in the sea. You live once, you dream once, you should put efforts to make your dream a reality"
Nishant Patel has participated in many cycle races in Ladakh and has cycled on the world's highest motor-able road in India, to cycling down most of the south on cycle. But being an adventure enthusiast he wanted to challenge himself further and hence decided to conquer some depths through 'Scuba Cycling in the Sea'. Though he was an amateur in this field, and without any formal Scuba certification, he developed and practiced the sport undersea at 5-7m in the Andamans and decided to take on this challenge to greater depths. He became the first Asian to set a record of 'Deepest & Fastest Scuba Cycling Undersea' in the Bay of Bengal off Puducherry at a depth of 32.7m (107 feet) in the ocean cycling a distance of 100m in just 6 minutes 47 seconds. Nishant, besides being an avid adventurer, he is also the Founder and Trustee of Equal Street. He is also a Treasurer and event facilitator for Australian Alumni Association Mumbai Chapter (AAA, body formed under Australian Consulate to help build ties between the two countries)
Another winner of Limca books of Record & India Book of Record Holder, Mit Bhatt an adventure enthusiast took the challenge of creating the record of first Indian civilian to touch the 'Edge of Space'. A dream for many as it is still a prerogative of fighter pilots and astronauts, but it was achieved by Mit Bhatt. Having experienced many adventures on land, undersea and air, Mit wanted to take it to the next level by 'Experiencing Space'. To realise his dream and create a record, Mit went to Russia to fly in a MiG-29UB Fighter Jet to reach the Stratosphere. He touched the Edge of Space at Supersonic speeds whilst enduring pulverising Gravitational forces (G-Forces) followed by Top Gun style Aerobatic Manoeuvres.
Recalling his moment of a lifetime Mit Bhatt says, "It was an unforgettable experience which cannot be expressed in words to fly to the stratosphere (edge of space) and come back, though there were lots of technical and physical complications involved. During the Vertical Take-off I felt as if someone kept punching really hard on my stomach when the gravitational forces (G-forces) hit, it took the wind out of me and I felt breathless and was gasping for air for a minute. But when we reached the edge of Space, it was quite magical! We tore through the clouds at supersonic speed, the view was like a dream – a thick carpet of snow white clouds below, an electric blue horizon and the sky above getting deeper blue to black with some stars appearing in broad daylight – I felt like I am in heaven! I am glad that I took it up on myself and create this amazing record".
In the cloudy, snowy and unsuitable weather condition, which makes even trained pilots uncomfortable, he took this ride to the edge of space in 40 mins (max allowed is 45 mins and entirely up to the person how much longer he/she can endure these G-forces) with a top speed of Mach 1.7 (approx. 2,080 kmph), altitude of 17.3km ABSL (approx. 57,000ft) enduring a G-Force range of +4G to +7G.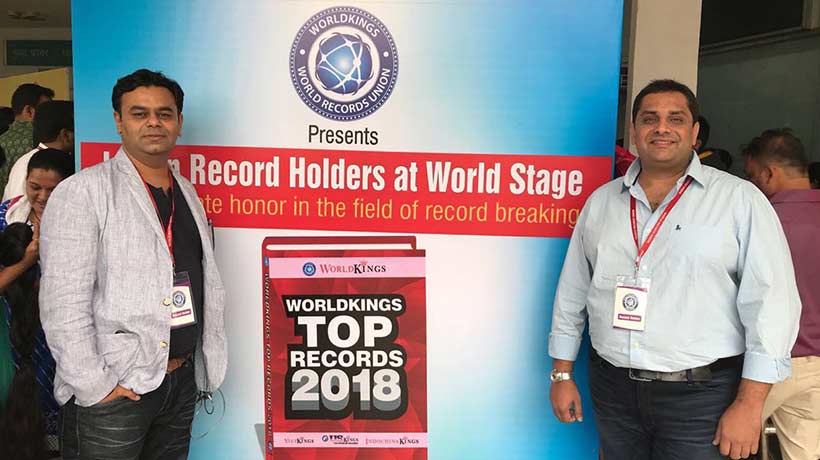 When Mit is not indulging in extreme adventures, he loves to travel in style which inspired him to found The Grand Vacationist with Nishant Patel and Rishabh Shah. He is also been a Management Coach & Advisor to 4-Star Generals and Squadron Commanders of the US Air Force & US Army Aviation Commands as well as Business Unit Heads of some of the top MNCs such as Delta Air Lines, L&T and BHP Billiton.
Taking their adventure streak into business, Nishant Patel and Mit Bhatt have come together to start an experiential travel start-up called ,The Grand Vacationist, offering customised adventure and luxury vacation solutions and have also started the country,s first formal Scuba Advisory Service called ,Scuba Dooba Do, for anyone who wants to start their underwater journey with the right advise or for certified divers to plan their dive travel around the world. So people looking at a unique lifetime experience in luxury adventures can now plan their next trip with the record-making experts ,The Grand Vacationist,!
Subscribe To Our Newsletter