Two Mizoram lads have made their mark in the Round 2 of Red Bull Road to Rookies Cup, which concluded here on August 6, which witnessed some superb racing.
In the Red Bull Road to Rookies Cup, Race 1 witnessed two tight battles between Jaden Gunawardena of Sri Lanka and Lalhruaizela from Mizoram for first position and Lalnunsanga of Mizoram and Chennai-lad Varoon for 3rd position.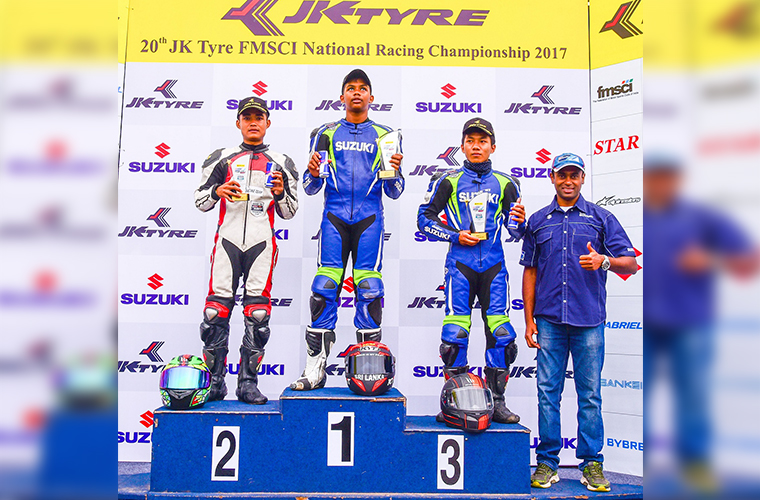 Lalhruaizela upped his game and was close on the heels of Jaden providing a spectacular showdown to the finish line with just 1/100th of a second between the top two finishers.
Race 2 had Lalhruaizela and Varoon fighting for 2nd position all throughout and Jaden took advantage of their spat and clinched the win by a comfortable margin of three seconds, a release from the organisers said today.
At the end, Lalhruaizela got the better of Varoon and took 2nd with a lead of 0.8 seconds only.
Red Bull Road to Rookies Cup not only defines a new category in the sport in India but also gives the best motorcycle racer in the country a chance to be a part of the internationally acclaimed Red Bull MotoGP Rookies Cup 2017.
Both the Suzuki Gixxer Cup and the Red Bull Road to Rookies Cup were run as part of the 20th JK Tyre FMSCI National Racing Championship 2017.
While the Road to Rookies Cup caters to riders between the ages of 12 and 16 years, the Suzuki Gixxer Cup is for riders of 17 years and older.
Last year's Red Bull Road to Rookies Cup winner Sachin Chaudhary also improved his performance in the Suzuki Gixxer Cup Races and finished both Round 2 Open races in 4th position.
The Suzuki Gixxer Cup and Red Bull Road to Rookies Cup will return here for Round 3 from September 1 and 3.
The second edition of Red Bull Road to Rookies Cup would culminate in the third round here, as the most talented rider (of Indian nationality)
will head to Spain and get a chance to represent India in the Red Bull MotoGP Rookies Cup Qualifiers in September.
Subscribe To Our Newsletter