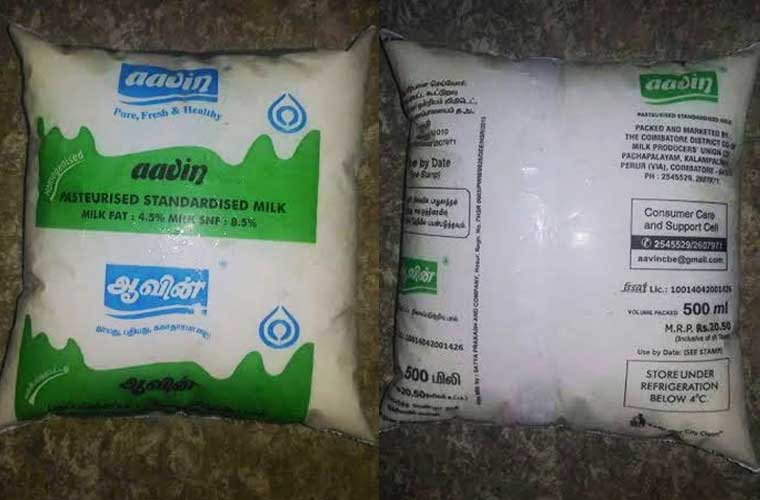 Alcohol or milk – people all over the country trust the Government for their welfare and transparency. When riddled with corruption, even the Government cannot be trusted. Aavin, the Government-run co-operative diary was recently under cloud on charges of milk adulteration and selling packets without manufacturing seals of the date of production and expiry.
J.D. Socrates, an advocate who also runs the Social Awareness Movement Organisation here, had received many complaints on these issues. In a statement to Covai Post, he said he had gone to check the authenticity of the claims after receiving several of them.
"Though the booths and parlours that sell the milk claim that it has been supplied only today, I find it hard to accept this as the truth as I cannot find the date of packaging anywhere on the packet," he said.
He reminded us of the arrest 2 years ago in Chengalpettu where milk suppliers were found adulterating the material inside the tanker lorries. Socrates claims that his sources inside the factories admitted that while the public believe the milk to be genuine, it is actually made of milk powder and huge quantities of these are found stacked in unhygienic conditions and its consumption can turn harmful.
"Even a toffee needs a manufacturing date. Why do we have to accept staple food like milk without a packaging date and proper seal and stamp," he asks.
When Covai Post contacted the Aavin office here, General Manager K. Sumathi made a statement: "Aavin is a Government institution and a co-operative society. If people have any complaints, they can contact us directly."
To this Socrates says that social activists are `insulted and humiliated' in Aavin offices. He claimed that social activists who complain of adulteration are arrested by the police on charges of trying to `blackmail' the institution.
Socrates pointed to the case of journalist Anbalagan who wrote about misdeeds of a minister and was illegally detained and assaulted by the Police. Three FIRs were filed against him. The lawyer who has been practising for 25 years, says that it only in cases of complaint against the Government that the police request return of custody from the magistrate and harass the complainant as if he were involved in a murder case.
Socrates believes that Corporation Commissioner Dr Vijay Karthikeyan needs to step in to ensure transparency and `take action against such misdeeds' as there needs to be extra care in the case of government products as they are trusted very much by the public.
General Secretary of Consumer's Association PA Surendran said that while there were many consumer laws, there was lack of proper measures for citizens seek immediate redressal for their scomplaints. He claimed that chief minister of Tamil Nadu and Kerala and various states met with the Prime Minister seeking proper provisions of consumer care when it comes to staple food like milk, vegetables, water etc.
It remains a fact that 90 per cent of vegetables sold in Tamil Nadu and Kerala have high levels of pesticides and chemicals he pointed out. There is no proper mechanism for an individual to ask for his/her rights in the consumer court. There are no proper laboratories at district levels to test products sold in the market in case the consumer suspects adulteration or chemical presence, Surendran says. It is for the district administration to do the needful. There is the need to create awareness, ensure proper governance and have avenues for seeking redressal in case of complaints, he said.
(J. D. Socrates is an advocate and head of Social Awareness Movement Organisation. He can be contacted at [email protected]. Mr. P. A. Surendran is the General Secretary of Consumer's Association based in Pallakad, Kerala. He can be contacted at [email protected].)
Subscribe To Our Newsletter