DMK working president and Opposition Leader MK Stalin was arrested today at Kaniyur checkpost on the outskirts. He was on his way to Salem to oversee the progress of the Katcharayan lake desiltation work undertaken by his party workers.
As police denied Stalin permission to visit the visit, more than 200 police personnel, headed by Superintendent of Police P Murthy, had gathered at the checkpost.
Stalin alighted at the city airport around 10.15 am and as the vehicle carrying Stalin in a convoy of 50 reached the checkpost, police stopped the vehicles and did not allow him to proceed further.
He stayed in the vehicle for nearly half an hour and told mediapersons that police had denied him permission to him to participate in the human chain in Salem seeking exemption to NEET. Though there was no ban on his visiting the lake, police have stopped him from going there too and cited law and order issues, he said.
"This is nothing but to defame the DMK, which with the support of other parties has taken up the cause of students over NEET and had organised a human chain," he added.
Stalin made it clear that he would visit the lake. But the police said permission had been denied and arrested him. He was taken away in a police van that had been arranged.
Over 1,500 DMK workers, who had gathered at the checkpost on the National Highway and raised slogans against the government, were arrested. Vehicular traffic was disrupted for nearly an hour.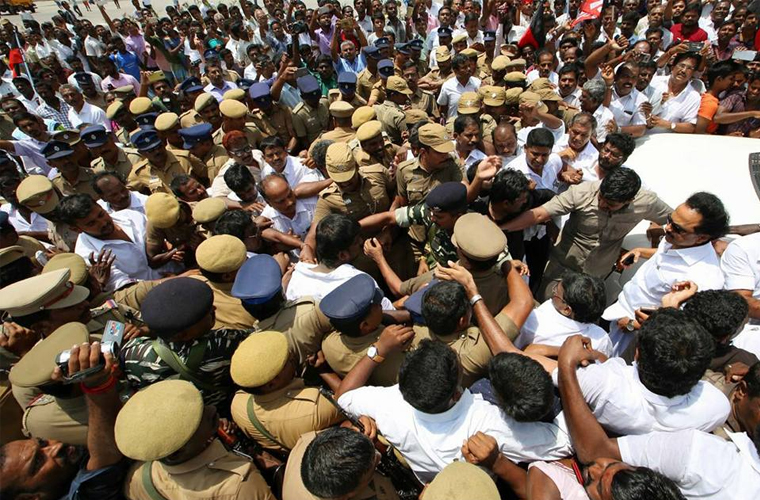 Stalin and the others arrested were taken to a nearby marriage hall. Earlier, he appealed to the cadres not to get agitated or court arrest, since they had to be part of the human chain. Since the future of students was important, the party workers should remain calm, and not protest, he said in a statement.
The situation has been tense for the last two days Konganapuram at Edappadi in Chief Minister Edapadi Palanisamy's constituency, as DMK workers resorted to widespread protests against farmers owing allegiance to AIADMK damaging bunds with earthmovers after DMK activists had desilted the lake.
Subscribe To Our Newsletter