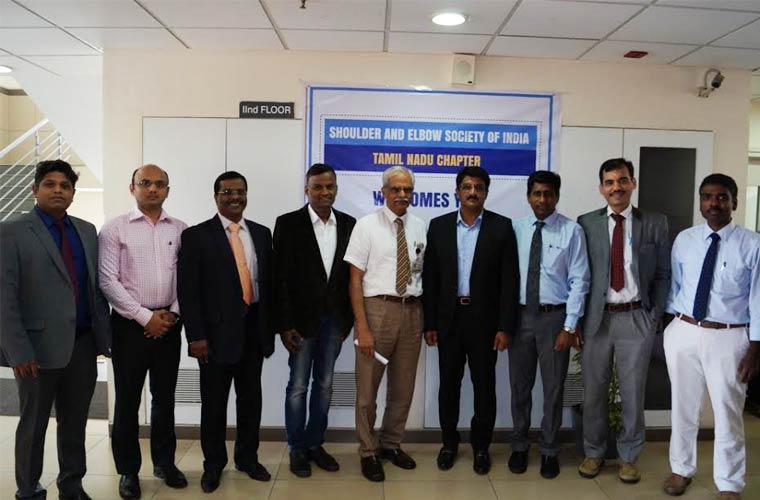 Ortho One Orthopaedic Specialty Centre Founder Dr David V. Rajan inaugurated the Tamil Nadu chapter of the Shoulder and Elbow Society of India (TN-SESI) on the medical facility premises in Trichy Road here on Wednesday.
Society president David Rajan said the new entity aimed at establishing shoulder and elbow surgery as a well-recognised subspecialty in the field of orthopedics.
"Shoulder is often a neglected joint in ortho-related problems and there is a widely believed notion that people should manage it throughout their life. But there is cure," he said adding that if not treated in time, they might lead to rotator cuff diseases, which may require surgery.
Claiming that technical support for such surgeries would not be available under a single roof, he said the association would be helpful in bringing knowledge and technology to smaller cities for the benefit of the masses.
"The society also aims to provide periodic educational activities, including workshops with international surgeons, evidence-based practice and annual meetings to train young graduates," according to a statement.
The members of the association include Dr Arumugam, SRMC, Chennai, Dr. S R Sundararajan, Ganga Hospital, Coimbatore, Dr. Ram Chidambaram, MIOT, Chennai, Dr. Subramaniam, Velammal Hospital, Madurai, Dr. Leonard Ponraj, TNGMSSH, Chennai, Dr. Senthil Velavan, Apollo Ayanambakkam, Chennai, and Dr. Bhupesh Karthik, VS Hospital, Chennai.
Subscribe To Our Newsletter