Coimbatore : If you are on the cyber space, its hard for you to have missed this video which has garnered views in several lakhs.
This youngster has left the social media users awestruck by "flying" above the Prozone Mall and then landing slowly and steadily on the ground. As this video went viral, it reminded and kindled our own innate desire to emulate the birds.
"But please don't ever try to imitate. It's dangerous. It is indeed flying but by employing techniques of a magical art form called, "mentalism" which is mastered after several years of learning and practice," warns twenty four year old K. Vignesh Prabu.
The internet states that a mentalist appears to have higher mental abilities than others. Some people regard them as psychics, having a sixth or seventh sense that ordinary people do not possess. Mentalism tricks have some of the most powerful effects on people because they appear real.
It is hard to believe that Prabu has been practicing mentalism at a professional level for years. A graduate in Computer Technology he is a resident of Coimbatore. He supports his widow mother and a brother who studies 11th Grade and earns a living by conducting shows on mentalism.
It was on last November, he took off his feet raising above the tables of the coffee shop in the mall's first floor and then rose higher and higher to about 160 feet above ground. It seemed like a self-levitation.
Levitating a living person from a lying posture is a typical item in any commercial manic show. In Prabu's show, the magician seemed to levitate himself as it were. A drone kept tracking him from various heights and distances.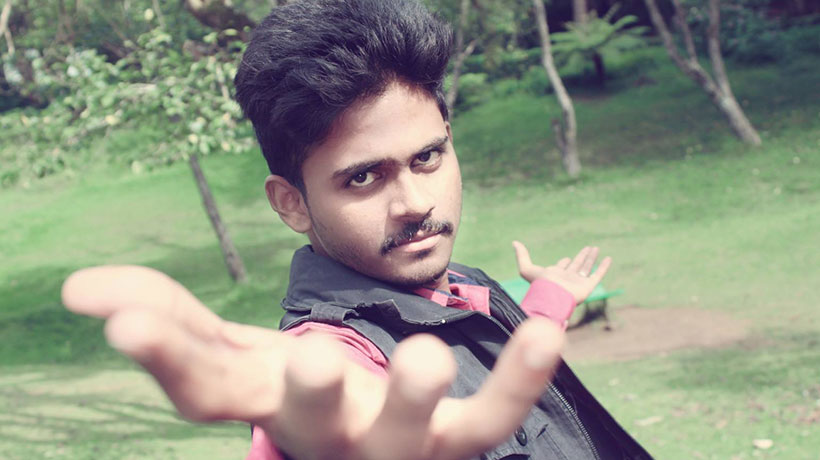 At one part of the uncut drone video we find Prabu seen miniatured above the huge mall building reminding us of the breath-taking visuals we had seen in Spiderman. We are also shown a view of pedestrians on the road opposite to the mall photographing the "flying man".
After being shared across social media the video surfaced again on a Facebook page on Monday, and clocked over a lakh views again.
"Unlike magic , which is largely dependent on sleight of hand (or tricks), mentalism is pure science," says Vignesh Prabu. It is but an advanced magic art form, a complicated mind game where the performer controls his mind and that of the audience as well. Hesitant to reveal more he says trade secrets cannot be discussed. Asked who his mentor was and where he learned the science of mentalism, he said he had no particular teacher or guru but was totally self-taught."
"I keep watching videos and reading books about mentalism and would spend hours practising it," he informs.
Denying that his flying feat above the mall was optical illusion; he says he is not going to do that kind of high flying anymore. "It cannot be repeated because of biological problems involved. "The feat reduced my blood count drastically and I was hospitalised for three weeks. The intense mind control involved takes a heavy toll on the body. But I will perform low flying to demonstrate the rare skill, "he says.
However I will continue to conduct shows for corporate clients, weddings and private functions to earn a living. I will offer customised packages based on the function, the size and the kind of crowd, he says.
Subscribe To Our Newsletter