The Tamil Nadu Agricultural University (TNAU) has come up with a solution that would prevent the loss of fruits and vegetables during the post-harvest season. Around 30 to 35 per cent of fruits and vegetables (worth Rs. 2,40,000 crore) are lost every year in the country during the post-harvest period.
In order to prevent the loss, TNAU's Nano Science Technology Department has been researching since 2012 to find a way to enhance the shelf life of fruits. It is during this process, the University of Guelph, Canada and TNAU developed the Hexanal technology.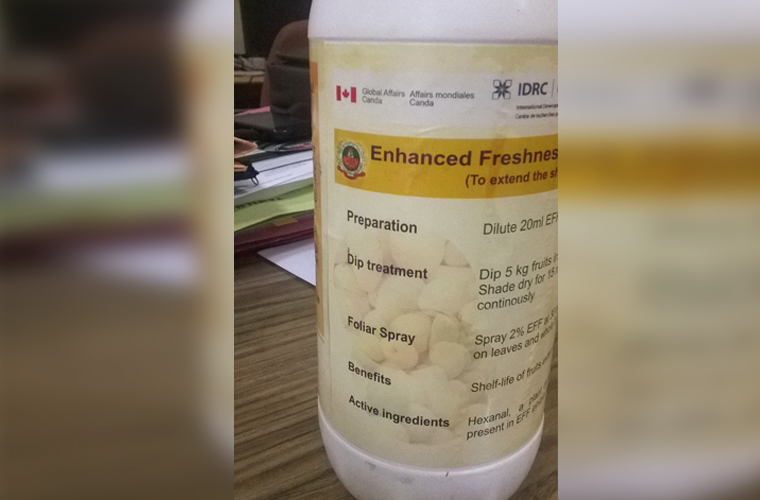 "Hexanal or the Enhanced Freshness Formulation (EFF) concentrate mixed in water can be sprayed at trees, 30 days and 15 days before the harvest by farmers. Otherwise, post-harvest the fruits can be dipped in the EFF solution by the traders. Either way, the fruit's shelf-life will be extended," says Prof G.J. Janavi of TNAU.
"Most useful application of EFF is in export of fruits. Also, farmers and traders are benefited as glut is prevented. When the supply is higher than the demand, farmers and traders usually face loss but this method delays the ripening of the fruit and sustains it for a while. So, the farmer doesn't have to unload everything at the market and face a loss instead he can store his fruits for future business and maintain a equilibrium," she said.
The solution has been most successful with mangoes and bananas. Meanwhile, research scholars and PG students across agriculture colleges are encouraged to research about the effect of the EFF solution on fruits like papaya, acid lime and guava.
Farmers of Theni, Krishnagiri and Dharmapuri districts who have used the solution in their farms bear testimonials to the efficiency of EFF technology. It has been learnt that the farmers are happy with the outcome as well as the fresh and glossy look the solution gives to the fruit.
While the procedure of making this compound has not been disclosed, it is learnt that the mixture has undergone various bio-safety tests to ensure that no damage is done to the environment.
"The compound is mostly organic. Many examinations were conducted to make sure that the product does not harm the earthworms, honey-bees and other organisms including human cell lines," Janavi said.
Research on the solution would conclude by March next year and the solution would hit the market. The university would prepare the EFF solution, which might cost Rs. 500 a litre.
Subscribe To Our Newsletter