The Tamil Nadu Agricultural University (TNAU) has introduced Aeroponics Technology that would help in growing vegetables without soil.
According to Dr. R. Murugesan, Director of Agribusiness Development, TNAU, Aeroponics is a unique method of growing plants in an air and mist environment without the use of soil. "By this method most of the uncultivable lands can be utilised. A completely closed greenhouse with 40 per cent sunlight penetration, 60 per cent sunlight diffusion, covered ground with trapezoid aeroponics frame work, automated pulse irrigation and automated climate management are the salient features in this method," Dr. Murugesan said.
The main focus of the method was to grow more vegetables with less water throughout the year.
"Around 6,000 litres of water will be enough to cultivate 900 kilos of vegetables a day. Water would be sprayed intermittently at the root zone of the crops the whole day. The crops absorb only 2,000 litres as a top up, and the remaining water would be recycled. Through this technology most of the vegetables like carrot, tomato, chilli, brinjal, greens, mint, bittergourd, cauliflower and coriander can be cultivated," he added.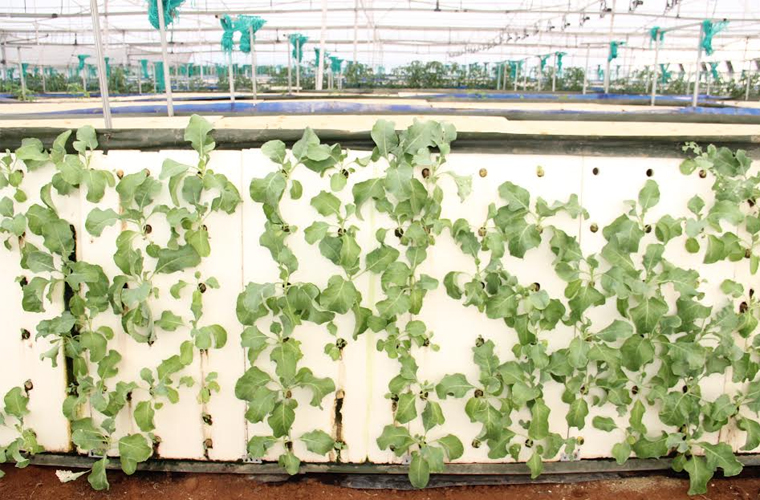 Since there is no soil involved, soil borne pathogenic infection could be prevented. "Likewise water is purified and sterilized at each and every recycling operation and so water borne pathogens and infestation is prevented enabling chemical free growing environment. Sponge is used to support the roots of the vegetables and once they grow up to a certain height, one of the free ends are tied using a string to an overhead rope for support," Dr. Murugesan said.
K. Prabhu Sankar, member of TNAU TBI (Technology Business Incubator ) and Managing Director of Thanyas Organic Private Limited has established a 30,000 square feet aeroponics unit at Sengodampalayam, Palladam.
"This is a new concept. I started this in 2011. I am planning to grown vegetables organically and deliver it to people at their doorstep from next month. Funds have always been an issue. With the help of TNAU I am managing it now," he said.
TNAU established an exclusive Directorate of Agribusiness Development in 2007 with an aim to support startups in agriculture and also to commercialise the technologies developed by the institution.
Subscribe To Our Newsletter