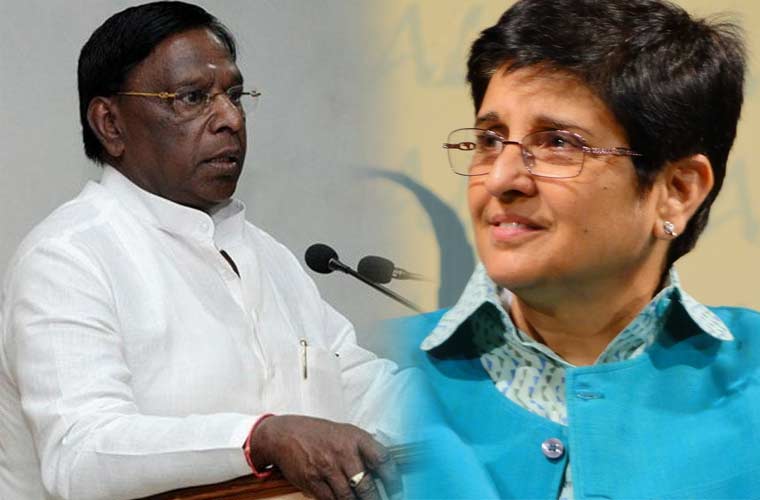 Chennai: Puducherry has once again become the theatre of tug of war between elected chief minister and the Lt Governor with both V Narayansamy and Kiran Bedi clashing over the issue of power of appointment and removal of government officials.
The bone of contention, for the present, is Puducherry Municipal Commissioner R Chandrasekharan. Chief Minister Narayansamy wanted him removed, as per assembly speaker's ruling, after a privilege motion was moved against the top civic body official by an opposition AIADMK MLA, Lt Governor Kiran Bedi will have nothing of it, claiming that only the Lt Governor had the right to appoint or remove officials.
After the said official was removed by an order issued by the chief secretary on March 31, Kiran Bedi on Monday nullified the order saying it was invalid. She also quoted the rule book to assert that the right to remove was vested with the Lt Governor who appointed the officials in the first place.
Actually, the problem arose after Chandrasekharan held a public function on Swatch Bharat and ignored the local MLA whom he did not invite. The MLA took serious exception to it and demanded action against the Municipal Commissioner.
In fact, during the proceedings on March 30, MLAs cutting across party lines, demanded action against the commissioner and also sought the recall of the governor too. Speaker, after the debate, ruled that the official be removed and kept in the wait list.
Kiran Bedi, who was away from Puducherry when it happened, soon overturned the decision. Municiapl Commissioner once again took charge of the post on Monday, after Bedi's official orders were issued.
In a press statement, the Lt Governor said an officer appointed by the Lt Governor can be removed only by the Lt Governor. "The order of transfer of Municipal Commissioner of Puducherry is not a small administrative routine matter. It is of an officer appointed by the Lt Governor who could be removed only by the Lt Governor," she said.
If the CM or his minister have to say anything, they can approach the central government or the courts, Bedi said. Bedi quoted Rule No 47 to assert that the chief minister could propose names for transfers and postings, but the final decision is of the Lt Governor as per Rule 47.
"As of now I have fulfilled my responsibility as laid down under the rules and also endorsed by the Union Home Ministry," she said cancelling the transfer order.
Chief Minister Narayanasamy had earlier maintained that the assembly speaker had power to rule and the elected government had the power to post and remove officials.
He too cited the rule book, but he chose the assembly rule book. Rule 312 of Business Rules of the Assembly gave the speaker to take a decision that cannot be changed by any other source, Narayansamy said.
The chief minister said he had also appraised the Prime Minister and Home Minister about the Speaker's ruling and its implementation.
Subscribe To Our Newsletter