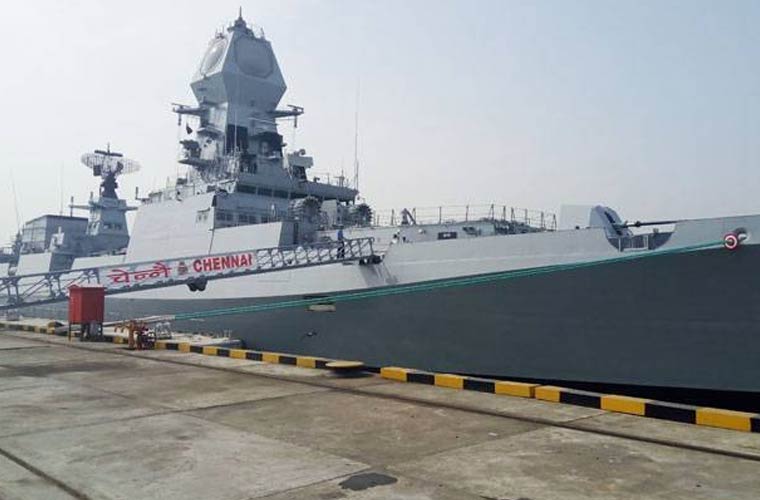 Chennai: India's guided missile destroyer INS Chennai made her maiden visit.
The Ministry of Defence in a statement said the ship was part of the Western Fleet and commissioned into Indian Navy last year.
It has been anchored off Marina Beach for the people to have a glimpse of the frontline warship of the Indian Navy named after the iconic port city.
The ship will be illuminated during sunset. Measuring 163m in length, 17.4 in breadth with a displacement of 7,500 tonnes, the vessel is among one of the most potent warships constructed in the country.
The ship is propelled by four powerful gas turbines and capable of achieving speed in excess of 30 knots.
INS Chennai has enhanced stealth features resulting in a reduced radar cross section achieved through efficient shaping of hull, full beam superstructure design, plated masts and use of radar transparent materials on exposed decks.
The war ship is packed with state-of-the-art weapons and sensors such as surface-to-surface and surface-to-air missiles.
The modern surveillance radar in the ship provides target data to the gunnery weapon systems and the nti-submarine warfare capabilities have indigenously developed rocket launchers and torpedo launchers, the statement added.
The vessel is equipped to fight under nuclear, biological and chemical warfare conditions. Some of the major indigenised equipment and system include combat management system, rocket launcher, torpedo tube launcher, automated power management system, foldable hanger doors and the bow-mounted Sonar.
Subscribe To Our Newsletter