Along the Mettupalayam Road near Periyanaickenpalayam, trees are being uprooted as part of road widening by the highways department. People's expectations of saplings being planted for the big loss were put to rest when the chopped pieces were logged off on lorries. The sacrifice for a four-lane road has been too much for many.
Workers engaged in the task said, "We are cutting the trees to widen the road. We cannot replant trees as we did in Pollachi where a college volunteered and provided us with land to planting the saplings. It is possible to plant neem and even banyan saplings, but not the tamarind varieties which do not grow easily."
Environmentalist Osai Syed told The Covai Post that though it was for the convenience for the people, a balance in the environment is needed and something has to be done by way of planting saplings.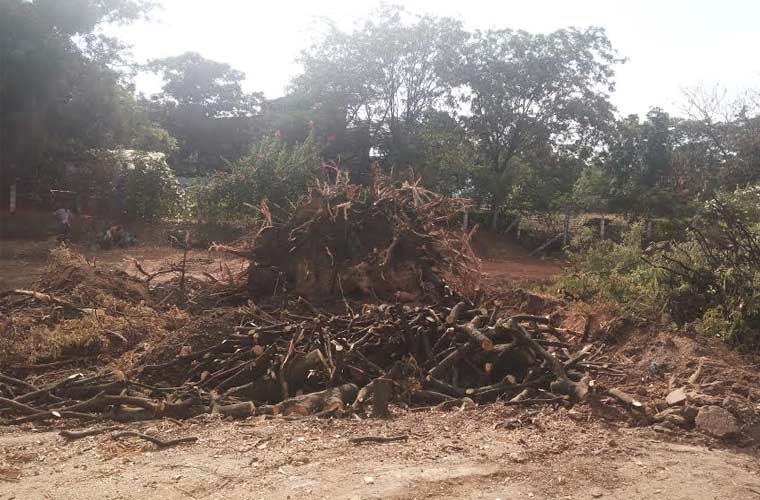 People approach him saying trees are being felled but none comes forward to say here is land for planting saplings, he adds.
R Mohammed Saleem, President, Environment Conservation Group says, "Trees are an important part of terrestrial ecosystem and home for many organisms…Though there are government rules that more saplings should be planted when a tree is cut, most contractors plant saplings, take photographs as proof and then just ignore the plants."
Though many cases have been filed against such illegal tree-felling without replacement, prompt action is never taken, he adds.
R.Sharath Easwar, a student, says, "We are destroying everything for our need. I have been travelling along this road from my childhood. Today, it looks like some alien land. We need to plant ten saplings for every tree cut."
S. Ranjith, a resident says, "For the past one year, I have been living in Chennai and during this period the road has become busier. Widening can reduce traffic jams and vehicles can move freely but the loss here is difficult to regain."
Subscribe To Our Newsletter