The Bible portrays Lilith as Adam's first wife, made from dust and filth left after sculpting Adam, to be his helper and subordinate. She left Paradise breeding many demonic offsprings with Satan or Sammael.
As the very name Lilith indicates `lasciviousness', such creatures are portrayed mating with djinns, demons, pigs, dogs, even lions and other beasts, as per some references, through unnatural means.
It was then God put Adam to a long sleep and created Eve from his ribs to be his soulmate rather than his subordinate.
It was this jealousy towards God's love for Eve and Adam treating her as his soulmate that made her tempt Eve to taste the forbidden apple.
On knowing that Lilith was Adam"s first wife and believing her, Eve became angry of Adam's closeness to God than with her and ultimately tempted him with the forbidden apple and thus both were exiled from Paradise.
Lilith along with her offsprings, the wind spirits of darkness, ill health, diseases, filth and death, sexually predatory towards men disturbing them in erotic dreams, disguised as perfect beauties are supposed to copulate with lonely married men stealing their vigour, to avenge Adam"s race, as they were devoid of familial bliss and aim only to make them go astray on streets, with deadly diseases, abandoning families.
Hindu legends and puranas warn of `Mohinis' who target lonely men, mating and residing as spirits within them, separating them from their families and making them jealous of their wives. It is said that once these evil spirits take over men, they possess their wives too, reflecting their ugliness and filth on the poor creatures, bloating them, sucking out their blood, rendering them anaemic, aborting their foetus, making them sterile and unconscious of what they do, as Lilith is described as sterile female demon unable to reproduce humans and lactate, and with a bony figure.
These legends do pertain to increase of lustful females killing families today. The recent steep rise of celebrities posing bare with so called "mom bump" tarnishing the very sacredness associated with the holiness of motherhood was what made me pen this.
"Tiz Lilith Who?Adam"s first wife is she. Beware the lure within her lovely tresses. The splendid sole adornment of her hair. When she succeeds therewith,a youth to snare, not soon again she frees him from her jesses," is Johann Wolfgang von Goethe quoted.
With lasciviousness let loose, the poor womenfolk, to be on par with such Liliths, some adopt masculinity, invoking their `y' chromosomes, to prove they are no less than men. Some follow Lilith's footsteps to retain their men. While some stick on to saintliness. giving up worldly pleasures considering it sin to unite Adam's race, some prefer spinsterhood rather than compromising with their self respect to sustain relationships.
Since the origin of mankind, these clashes between the successors of Eve and Lilith continue. But is just the outward appearance of woman her only asset to prove herself, remains a big question. Does commitment of a woman in a relationship being docile or humble mean that she is unworthy or not sought after? Why is there the need to expose oneself to prove compatibility?
Media projects women's assets to boost its economy, be it through a male deodorant or a luxury vehicle.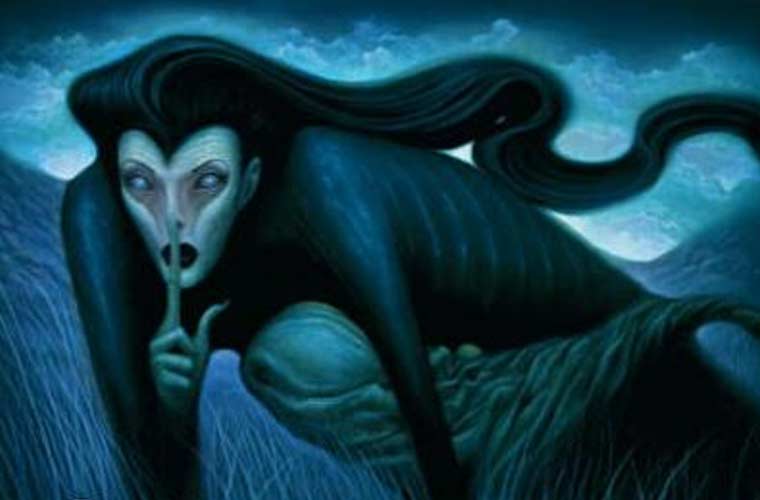 As Shobha de puts it, greedy moms portray their young daughters hardly 11 years old in padded outfits feeding the eyes of lusty men in commercials as newlywed brides. Such is the impact of these evil spirits on mankind, creating sadness, worries, ill health, diseases, filth, terror, violence, avarice, and vices. It is little wonder then that inhuman practices of copulation through unnatural means, catasexuality, bestiality are on the rise to punish Adams by tempting them to quit Eves.
For those of the Eve's race "I think women are foolish to pretend they are equal to men, they are far superior and always have been," said Nobel laureate William Golding.
So remember being a woman is not just all about being physically attractive, to sustain a relationship or impress the opposite gender. Being a woman is being a virtuous yourself, as true beauty lies not in the physique but a beautiful mind.
And for the Adam"s race Shakespeare said: "Never play with feelings of a person, for you might win the game but lose the person for lifetime."
And Napolean Bonaparte said: "The world suffers a lot not because of the violence of bad people, but the silence of good people."
It is an eye opener to.Adam's race to know that woman was made to be his partner and not subordinate. If he had treated Lilith as soulmate like Eves, she would not have turned into a demon mating Satan and mankind would never have suffered nor would he have been expelled from Paradise. The single man's sin and mankind still pays.
Disclaimer: The views expressed above are the author's own.
(The author of the column is Uma Ram, freelance writer from Coimbatore)
Subscribe To Our Newsletter